Summary

The ASX 200 breached 7,400 level for the first time to hit a fresh high of 7,406.20.
The index closed 6.70 points higher at 7,386.20 ahead of the US Fed meeting scheduled tonight.
The widely anticipated US Fed policy statement will be released tonight.
The energy sector emerged as the top performer, owing to a surge in oil prices.
The Australian share market closed higher with marginal gains on Wednesday as caution prevailed in the market ahead of the US Federal Reserve's monetary policy statement scheduled tonight. The market pared early gains as gains in oil, banks, utilities and telecom stocks were offset by losses in miners and information technology shares.
The ASX 200 settled 6.70 points higher at 7386.20, paring most of early gains. During the day's trade, the benchmark crossed 7,400 level for the first time to hit a fresh high of 7,406.20. The index opened higher at 7,379.50 and touched a low of 7,372.40 in the early trade.
The market breath, indicating overall strength of the market, is strong, with eight of 11 sectors ending in green. The energy sector gained the most, rising 1.43%. The other sectors that closed higher include utilities, healthcare, financial, A-REIT, consumer discretionary, consumer staples and telecommunications services.
Bucking the trend, materials was the worst performing sector and closed with 1.56% loss, followed by information technology, which fell 0.7%.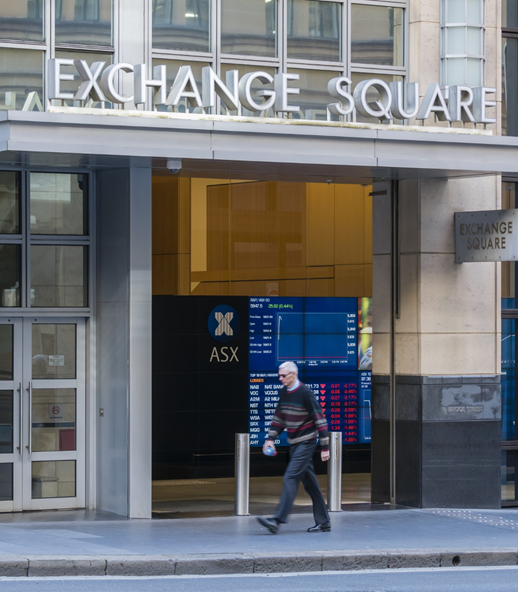 Source: ©Ymgerman | Megapixl.com
Australia's buy-now-pay-later stocks were under stress as investors remain wary ahead of the outcome of the Federal Reserve's latest policy meeting. The sector's lead players Afterpay Limited (ASX:APT), Zip Co Ltd (ASX:Z1P) and Sezzle INC. (ASX:SZL) closed in red.
Gold stocks traded also ended lower on Wednesday, owing to a fall in gold price, as trades sold the yellow metals ahead of the Fed meeting. The major gold miners such as Northern Star Resources (ASX:NST), Newcrest Mining (ASX:NCM), De Grey Mining (ASX:DEG), and Evolution Mining (ASX:EVN) and Ramelius (ASX:RMS) closed lower.
Australian energy index AXEJ rose 1.5% to extend gains into the third consecutive session. Oil prices rose nearly 2% to their highest in more than two years overnight, buoyed by hopes that demand will recover rapidly in the second half of 2021. Sector heavyweight Woodside Petroleum Limited (ASX:WPL), Oil Search Limited (ASX:OSH) and Santos Limited (ASX:STO) ended higher with decent gains.
Top Five Gainers and Losers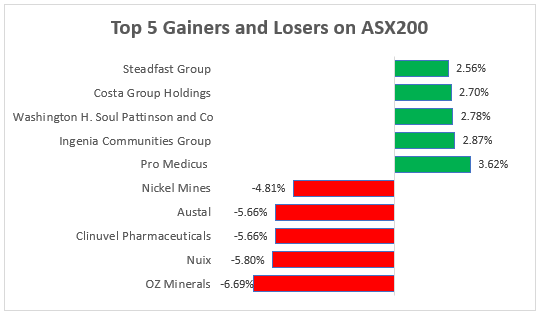 Source: ASX website; as of 4:00 PM (AEST)
Healthcare imaging software solution provider Pro Medicus Limited (ASX:PME) was the top percentage gainers on ASX, closing 3.62% higher. Some of other notable gainers are Ingenia Communities Group (ASX:INA), Washington H. Soul Pattinson and Company (ASX:SOL), Costa Group Holdings Limited (ASX:CGC) and Steadfast Group Limited (ASX:SDF).
Mining firm OZ Minerals Limited (ASX:OZL) emerged as the top percentage loser on the ASX, closing lower by 6.69%. Some of other worst performers were Nuix (ASX:NXL), Clinuvel Pharmaceuticals Ltd. (ASX:CUV), Austal Limited (ASX:ASB) and Nickel Mines Limited (ASX:NIC), falling between 4.8% to 5.8%.
Shares in News
Shares of Oz Minerals Limited (ASX:OZL) dropped as much as 6.77% to AU$23.83, hitting their biggest single-day fall since 27 January 2021, weighed down by a drop in metal price. Copper prices touched a seven-week high on Tuesday as traders and funds cut bets on higher prices over China price action worries. Stock is the top decliner in the Australian benchmark index, AXJO.
Shares of the gold explorer Resources & Energy Group Limited (ASX:REZ) rose as much as 16.7% to 3.5 Australian cents, their highest since 19 May 2021, on the approval for mine revival. The company informed the exchange that its proposal to resume mining at the Granny Venn deposit in Western Australia had been approved by the regulatory authority. It added that operations are likely to commence in late June.
The share price of oil & gas explorer firm Karoon Energy Limited's shares (ASX:KAR) rose as much as 2.95% to AU$1.39 on getting the nod for development plan for Brazilian fields.
Shares of copper and gold explorer Petratherm Limited (ASX:PTR) gained as much as 42.9% to AU$0.1, after it acquired an iron-oxide copper-gold project near Woomera in South Australia.
Oar Resources Limited (ASX:OAR) announced today it had received firm commitments for a share placement to raise up to AU$2.3 million at a price of 1.3 cents per share. The generated funds will be used to continue to advance Oar's core projects, led by the Crown PGE Nickel-Copper Project in the Julimar district in Western Australia.
Grooming products maker Shaver Shop Group's (ASX:SSG) shares fell as much as 13.8% to 94 Australian cents. The shares declined after the company predicted fiscal 2021 profit between AU$16.8 million and AU$17.5 million. The company reported profit of AU$14.2 million in the first half.
Shares of aerial mapping Company Aerometrex Limited (ASX:AMX) fell as much as 4.2% to 8 Australian cents on tepid earning forecast. The company expects full-year normalised EBITDA (earnings before interest, taxes, depreciation, and amortisation) to be between AU$2.75 million and AU$3.5 million, lower than AU$4.6 million reported a year ago. It expects revenue in the range of AU$19 million to AU$21 million, as compared with AU$20.09 million posted a year ago.
Austal Limited (ASX:ASB) shares fell as much as 5.2%, extending losses for a second session. On Tuesday, Austal lowered EBIT and revenue guidance for FY21, citing COVID-19 disruptions as well as a provision for a civil lawsuit it is facing.
Therapeutic antibody development company Patrys Limited (ASX:PAB) has announced the publication of new preclinical data for its deoxymab antibody PAT-DX1. As per the announcement, this data from studies conducted in three different animal models, shows the unique ability of Patrys' PAT-DX1 antibody to cross the blood-brain barrier (BBB) and significantly inhibit the growth of both primary and secondary cancers in the brain.
Shares of Regal Investment Fund (ASX:RF1) gained up to 0.9% to a record high of AU$5.08 on an action letter from Australian Securities and Investments Commission (ASIC). The investment firm stated that regulatory body ASIC would not be taking any enforcement action against the company under an investigation. The company mentioned that it had received a no-action letter from ASIC on an investigation related to trading.
Firefinch Limited (ASX:FFX) gained as much as 25.3% to hit a record high of 57 Australian cents on deal with China's Ganfeng to develop lithium project. The lithium miner stated it had signed a binding deal with Chinese lithium mining giant Ganfeng Lithium to jointly develop the Goulamina project in Mali.
Orthocell (ASX:OCC) shared on Wednesday it had secured patents for CelGro - a sutureless repair of soft tissue defects, in China and New Zealand. This is in addition to the previously granted patents in Australia and Japan. The company has filed further applications for patents in the US and the EU.
North Stawell Minerals Ltd. (ASX:NSM) announced that two of its exploration lease requests had been approved by Earth Resources Victoria.
Asian Markets Mostly lower
Asian markets are trading mostly, tracking weak cues from Wall Street, with investors turning jittery ahead of US Federal Reserve meeting outcomes. Investors looked forward to the US Fed meeting to get some signal about any change to the monetary policy outlook. A looming data dump on Chinese retail sales and industrial production also weighed on market sentiment.
China's Shanghai Composite emerged as the worst performer in the region, falling nearly 0.8%. It was followed by the Straits Times index in Singapore, which fell 0.7%.
Japan's Nikkei 225 fell 0.4% after the country's exports fail to meet market expectations. Japan's exports rose 49.6% in May, albeit it was lower than a 51.3% increase expected by market analysts.
Hong Kong's Hang Seng fell 0.23%, Taiwan's Weighted Index dropped 0.05% and Jakarta Composite declined by 0.02%.
Meanwhile, US stocks ended lower in overnight trade. The S&P 500 slipped 20 bps from its closing peak to 4,246.59, while the Dow Jones Industrial Average fell 0.27%, the S&P 500 lost 0.20%, and the NASDAQ dipped 0.71%.