Summary

The Australian share market opened flat on Wednesday, gaining just 30 points to 7,298.90.
By 10:30 AM (AEST), the ASX 200 was trading 0.51% higher at 7,330.
The surge was driven by a 1.2% gain for the materials sector, which includes mining companies.
The Australian share market opened flat on Wednesday, gaining just 6.30 points to 7,298.90, after the US stock markets closed largely subdued overnight as investors awaited inflation data scheduled later this week. However, the benchmark soon picked up. By 10:30 AM (AEST), the ASX 200 was trading 0.51% higher, at 7,330.
The benchmark closed at record level of 7,292.6 on Tuesday, led by technology and healthcare stocks.
On Wall Street, the Dow Jones fell 0.09%, the S&P 500 gained 0.02% and the NASDAQ added 0.31% on Tuesday. The skewed demand and supply balance in the US economy is also apparently forcing the markets to pull back.
Source: ©Ymgerman | Megapixl.com
What happened in the early trade?
Over the last five days, the index has gained 1.54% and is currently 0.06% off its 52-week high. The benchmark's rise was driven by a 1.2% gain for the materials sector, which includes mining companies. Shares of Brickworks, Lynas Rare Earths, and Mineral Resources were up 9.1%, 3.8% and 2.5%, respectively.
Other than consumer staples (down 0.034%), there were no other sectors trading in the red. GrainCorp and Coles Group were 0.7% and 0.3% lower. Financial and Energy were up 0.18% and 0.26%, respectively. Utilities was also up over 1%.
De Grey Mining (ASX:DEG), Silver Lake Resources (ASX:SLR) and Northern Star Resources (ASX:NST) were down as much as 1%.
Energy players such as Woodside Petroleum (ASX:WPL), Santos (ASX:STO) and Origin Energy (ASX:ORG) were each trading 0.2% higher.
The broader All Ordinaries index was up 0.59%, while the ASX 200 VIX Index was down 10.581%.
READ MORE: US Stocks Wobble On Inflation Worries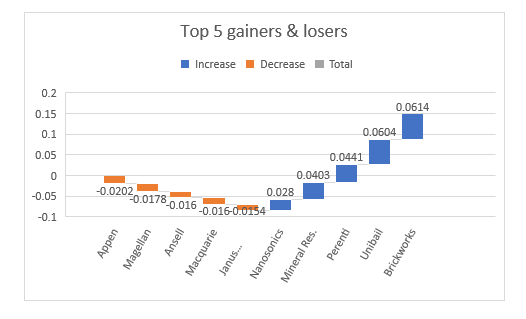 Source: ASX website; as of 10:30 AM (AEST)
How currency and bonds yields have moved so far
The Australian dollar, a commodity price-sensitive currency, was trading 0.07% higher at 0.7742. The dollar index was last up 0.12%.
The 10-year Australian bond yields were trading 2.92% lower, at 1.531. On Tuesday, the 10-year US Treasury note fell 4.2 basis points to 1.528%, implying bond investors don't see a pick-up in inflation.
How are commodities behaving?
The crude oil prices surged overnight and hit the highest level in more than two years after the top US diplomat said that several sanctions against Iran would remain in place even if the United States were to reach a nuclear deal with Tehran.
While the brent crude soared 1%, to close at US$72.22 a barrel, the West Texas Intermediate (WTI) oil rose 1.2%, to settle at US$70.05 a barrel. The crude oil WTI futures were trading 0.09% higher, US$70.11.
Gold fell on Tuesday as a strengthening dollar dented demand for bullion. On Tuesday, the US gold futures eased 0.1% to US$1,896.30. The gold futures were trading 0.12% higher, at US$1,896.65.
READ MORE: Three ASX shares having high-growth prospects
Source: ©Flynt | Megapixl.com
Metals update
Amid the fall in steel prices in China, the benchmark Dalian iron ore futures fell for a third straight session on Tuesday. The most-traded iron ore for September delivery on China's Dalian Commodity Exchange ended daytime trading 0.7% lower at 1,149 yuan (US$179.81) a tonne.
Copper prices surged and three-month copper on the London Metal Exchange had gained 0.7% to US$9,969 a tonne by 1600 GMT after dipping 0.6% in the previous session. The copper futures were trading 0.09% higher, at US$4.5477.
Newsmakers
Sandfire Resources (ASX:SFR) has awarded the contract for open mining services at its Motheo copper project in Botswana to Perenti (ASX:PRN) owned African Mining Services.
Brickworks (ASX:BKW) expects profits from its share of a Joint Venture Industrial Property Trust to be AU$100 million. The company expects a record property underlying earnings before interest and tax of AU$240 to AU$260 million for FY21.
Austal (ASX:ASB) has won a US Navy contract to develop and build an autonomous capability for a Spearhead-class vessel.
Mercury NZ (ASX:MCY) has downgraded its FY21 guidance and the company now expects EBITDAF of AU$460 million compared to its previously expected AU$520 million.
Cardno (ASX:CDD) will conduct a strategic review to maximise shareholder value.
READ MORE: All you need to know about stablecoin