Summary

The ASX 200 opened 7.20 points higher, at 7319.50, on Tuesday morning.
By 10:15 AM (AEST), the ASX 200 was trading at 7,364.60, up 48.2 points, setting a new intra-day high.
On Wall Street, the Dow Jones fell 0.25%, the S&P 500 rose 0.2% and the NASDAQ climbed 0.75% in the overnight trade.
Extending its gains, the ASX 200 on a positive note at 7319.50, 7.20 points higher on Tuesday morning, following a reasonably positive trade by the US shares overnight. On Friday, the Australian equity benchmark closed at a record high of 7,312.3. The Australian share market was closed on Monday on account of Queen Elizabeth's birthday.
By 10:15 AM (AEST), the ASX 200 was trading at 7,364.60, up 48.2 points, setting a new intra-day record high.
The Opening Bell || Why ASX 200 Turbocharged At The Market Open?
Meanwhile, on Wall Street, the Dow Jones fell 0.25%, the S&P 500 rose 0.2% and the NASDAQ climbed 0.75% in the overnight trade as US investors awaited the results of the Federal Reserve's monetary policy meet. The Fed will meet on Tuesday and Wednesday to discuss the current inflationary pressures on the economy.
READ MORE: Why Inflation right now could add fuel to income inequality
Source: ©Shimanovichs | Megapixl.com
What has happened so far?
Over the last five days, the index has gained 0.91% and is currently 0.08% off its 52-week high.
Tech stocks, with their 1.2% jump, led the gains on the benchmark and hit a six-week high. Buy-now-pay-later firm Afterpay Ltd rose 1.4% and software maker Xero 1.8%.
Financial stocks gained 0.8%, with the "Big Four" witnessing an increase.
Energy stocks were also up 0.6%, with natural gas producers Woodside Petroleum and Santos up about 0.8% and 0.5%, respectively.
Heavyweight mining stocks followed course, inching up 0.4% after iron futures jumped.
Gold miners fell in the early trade. Resolute Mining, Perseus Mining and Silver Lake Resources fell as much as 3%.
The broader All Ordinaries index was up 0.573%, while the ASX 200 VIX Index was up 2.516%.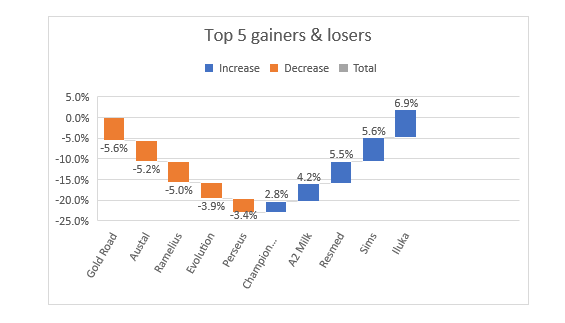 Source: ASX website; as of 10:30 AM (AEST)
READ MORE: US markets close flat as technology, real estate stocks advance
Bond yield and dollar
The 10-year Australian bond yields were currently trading 2.01% higher, at 1.473. The benchmark 10-year yields ticked up four basis points on Monday to 1.50%.
The Australian dollar was trading 0.06% higher, at 0.7716. The dollar index fell 0.056 points, or 0.06%, on Monday.
READ MORE: Do G7 nations favour investment in fossil fuels over green energy?
Commodities
Having traded up earlier in the day as crude prices hit their highest levels in more than two years, the US energy index slipped 1%. The WTI crude oil price was up 0.25% to US$72.86 per barrel and the Brent crude oil price rose 0.5% to US$70.88 per barrel.
The WTI crude oil futures were trading 0.48% higher, at US$71.27.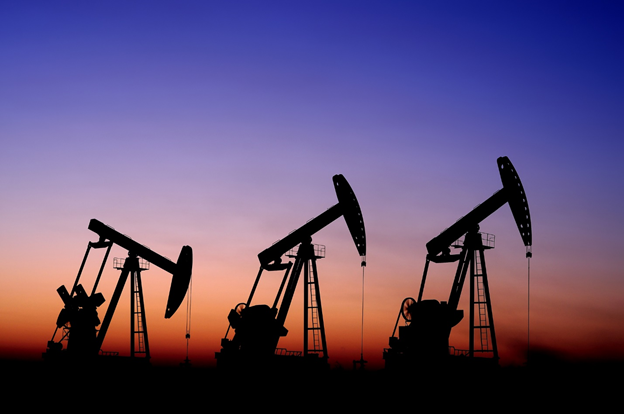 Source: © Bulus | Megapixl.com
On Monday, gold prices slipped as much as 1.7%, as investors feared the US Fed might start chalking out a path for scaling back its monetary policy at a two-day meeting this week. The US gold futures closed the session 0.7% down at US$1,865.9.
Gold futures were trading 0.13% lower, at US$1,868.45.
Metals
On Monday, copper slipped as fears that China would take stringent action to curb any further rise in prices of industrial metals triggered selling. Benchmark copper on the London Metal Exchange traded 0.2% down, at US$9,980 a tonne at 1601 GMT.
Copper futures were trading 0.17% lower, at US$4.5172.
On Friday, the iron ore futures September delivery contract traded 3.14% up, at 1,214 yuan.
Newsmakers
Suncorp Group (ASX:SUN) announced that it might face losses to the tune of AU$50 million on account of claims in light of severe weather in Victoria over the weekend.
Crown Resorts (ASX:CWN) said that Oaktree Capital Management has altered its proposal to help the company buy back a few or all Crown shares held by Consolidated Press Holdings on a selective basis.
Link Administration (ASX:LNK) has lodged a prospectus for its initial public offering (IPO) for PEXA. The company expects the listing to happen in July.
REA Group (ASX:REA) said that it acquired a 34% interest in Simpology for the broking and lending industries for AU$15 million.
Japara Healthcare (ASX:JHC) announced that it had received a second takeover offer from RSL Care RDNS, following an offer from Little Company of Mary Health Care.
Irongate Group (ASX:IAP) shares will be placed in a trading halt, ahead of a deal announcement.
READ MORE: Australia needs to react to climate change- here's why.