Summary

The ASX 200 is set to open higher, ahead of an important monetary policy meeting by the RBA.
On Monday, the US market was closed on account of an extended 4th of July weekend.
Crude oil prices climbed higher as OPEC+ nations called off talks on supply levels.
On Tuesday, the ASX 200 is set to open higher, ahead of an important monetary policy meeting by the central bank that may see its cash rate stay at a record low. In addition, higher commodity prices would likely to help local miners and energy stocks to gain in today's session. On Monday, the ASX 200 closed 0.09% up at 7315.
Global stock markets stayed close to their record highs on Monday as market participants weighed increasing European business activity and robust growth in the recent US jobs report against worries about the highly infectious Delta variant of the coronavirus.
Image Source: © Littlemacproductions | Megapixl.com
Trading across the globe was thinner than usual, with US markets closed for the extended 4th of July weekend.
The S&P 500 futures signalled a flat opening for Tuesday after the index closed 0.8% higher at a record high on Friday.The Dow Jones rose 0.4%, while the NASDAQ Composite was up 0.81%, setting another record.
On Friday, the US non-farm payroll data showed growth by a bigger-than-expected 850,000 jobs in June 2021. However, the unemployment rate also ticked up from 5.8% to 5.9%. Another key data, average hourly earnings, which is a measure of wage inflation, rose 0.3% in June 2021, lower than the forecast for a 0.4% increase.
On Monday, the US dollar fell against a basket of major currencies after hitting a resistance when last week's mixed bag of US jobs data calmed down investors' worries about a faster end to monetary stimulus.
Global Market Round Up || What Led The World Shares Hold Near Record Highs?
The dollar index was last down 0.1%, to 92.262, falling below Friday's low. However, with a 2% rise in the last three weeks since the US Fed announced its projected rate hikes in 2023, analysts think the US dollar still has more room to rise further.
On Monday, the Australian and New Zealand dollars were struggling to keep the ongoing rally alive, as investors are getting cautious ahead of the Reserve Bank of Australia's monetary policy meeting, which could see a change of course in its massive stimulus programme.
The Aussie dollar was hanging around AU$0.7515 on Monday, after recovering from a seven-month low of US$0.7445, hit on Friday.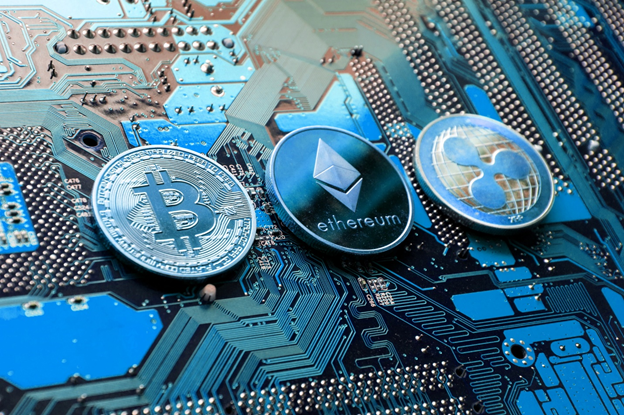 Image Source: © Josefkubes | Megapixl.com
Bitcoin is stuck in a range and has been trading directionless for the last few weeks. On Monday, it was down by 3.31% to US$34,117, recovering from the low of US$33,156. Dogecoin and Ether were also down 4.27% and 3.85%, respectively.
Read More: Examining how bitcoin prices fluctuate over Elon Musk's comments
Technology shares
The ASX All Technology Index lost 1.06% on Monday and closed near the low of the day, at 2,937.7, breaking the support level of 2,940. Today, further weakness could be seen in the technology space. The Australian technology shares to keep on the watchlist are Afterpay Limited (ASX:APT), Xero Limited (ASX:XRO) and BrainChip Holdings Limited (ASX:BRN).
Crude oil
On Monday, crude oil climbed higher as OPEC+ nations called off talks on supply levels, meaning no deal to boost production has been agreed.
Brent crude oil futures were up 0.2%, to US$76.32 per barrel, while WTI crude oil futures gained 0.2% to US$75.31 per barrel.
Australian energy stocks such as Santos Limited (ASX:STO), Viva Energy Group Limited (ASX:VEA) and Woodside Petroleum Group Limited (ASX:WPL) could see some gains today.
Gold
On Monday, gold prices traded higher as a subdued US dollar and falling bond yields amid a mixed data of US jobs report diminished investors' concern about a faster policy tightening, helping the yellow metal rise towards the US$1,800 an ounce once again.
Image Source: © Scanrail | Megapixl.com
Spot gold was up 0.2% at US$1,790.70 an ounce by 10:31 AM EDT, after hitting its highest level since 18 June 2021, of US$1,794.86 on Friday.
Gold miners such as St Barbara Limited (ASX:SBM), Newcrest Mining Limited (ASX:NCM) and De Grey Ming Limited (ASX:DEG) could trade higher today.
Read More: How to invest in gold stocks in Australia?
Metals update
On Monday, benchmark iron ore futures contract in China surged more than 5%, supported by rising demand as mills resumed production after the country's party centenary.
The most actively traded iron ore futures for the September delivery month on the Dalian Commodity Exchange (DCE) increased as much as 5.6% to 1,226 yuan (US$189.80) a tonne, the highest level since 11 June 2021.
Image Source: © Kodym | Megapixl.com
On Monday, copper prices inched up to their highest level in more than two weeks, underpinned by the US dollar's halt in the uptrend and prompted fund buying. However, expectations of higher supplies to come and slowing demand in top consumer China capped gains.
The benchmark copper on the London Metal Exchange (LME) was up 1.4% at US$9,510 per tonne at 1613 GMT.
Australian miners such as Fortescue Metals Group Limited (ASX:FMG), Rio Tinto Limited (ASX:RIO) and BHP Group Limited (ASX:BHP) could see a higher opening in today's session.
Read More: Which are the ten hottest ASX EV stocks under $1?