Summary

Numerous airlines have witnessed severe disruption from the COVID-19 induced shutdown and travel restrictions and noted a plunge in their earnings multiple and share prices.
Amid COVID-19 headwinds, ASX 200 listed airline, Qantas Airways shares have generated a return of -9.01% and 30.46% in the last three months and six months, respectively.
On 15 September 2020, Qantas had announced key facilities location review as part of its recovery plan and effort to trim its overheads, which might result in bringing together numerous facilities that extends currently throughout Australia, under one state.
The consolidation or co-location of the Qantas and Jetstar head offices at one place rather than split across Sydney and Melbourne, would further unlock economies of scale.
Notably, Qantas is progressing significantly on the initial steps of its 3-year recovery plan.
Tourism industry has been wrecked by the impact of the prevailing COVID-19 pandemic. Furthermore, shutdown and travel restrictions imposed by the government of numerous nations have taken a toll on the airlines in the aviation space.
Notably, several airlines have experienced severe disruption, and their share prices have also suffered from hindered business activities affecting sentiments of the market participants.
An interesting read; Read What's Happening Inside Australian Travel Industry!
According to the statistics by the Australian Government's Department of Infrastructure, Transport, Regional Development and Communications, a steep decline was witnessed in the domestic RPT (Regular Public Transport) traffic during 2020. Below image showcases the fact-
Source: Australian Government, Department of Infrastructure, Transport, Regional Development and Communication
Must read; How Long Does the Woes of Travel-Tourism and Aviation Sector Will Continue Post Lockdown?
One of the ASX 200 listed airlines, Qantas Airways Limited (ASX:QAN) has also experienced the turbulence from the COVID-19 headwinds. However, the airline has adopted numerous measures to stay afloat.
Location review of key facilities as part of its recovery strategy and efforts to trim overheads
On 15 September 2020, the Company announced that it is examining the location of its crucial facilities, which forms a component of its recovery strategy and an attempt to trim overheads, which might be followed by bringing together of numerous facilities, spread currently throughout Australia, within a single state. The consolidation of a few facilities would further unravel economies of scale.
Notably, the review would focus primarily on non-aviation facilities, comprising of the leased head offices of the national carrier and Jetstar in Sydney (Mascot) and Melbourne (Collingwood), respectively.
Furthermore, few aviation facilities would also be considered for potential relocation, if there exists an opportunity to move few or all of the below-mentioned facilities at one place elsewhere within Australia.
The facilities are as follows;
Flight simulator centres currently located in Melbourne and Sydney; and
Heavy maintenance facilities in Brisbane.
The review is anticipated to take three months to deduce the preferred options. Moreover, relocations, if any, are anticipated to be sway across time (probably years) depending on the options that would be taken up.
A Must read; 3 triggers for ASX travel stocks to spring back: Travel stocks are the early stars of the session
Stock Performance
ASX 200 Qantas shares have provided a return of -9.01% and 30.46% in the last three months and six months, respectively. On 16 September 2020, Qantas share price was trading at AU$3.98, increasing by 1.015% (at AEST 12:12 PM). Qantas has a market capitalisation of AU$7.43 billion and total outstanding shares of ~ 1.89 billion.
QAN's 52-week low and high was noted at AU$2.030 and AU$7.460, respectively.
Also, read; Can Qantas Share Price Still Be a Market Darling in the Post-COVID-19 Era?
Capital raising to boost liquidity
As part of continuing management of Qantas debt maturity profile, the group confirmed an oversubscribed issue of unsecured bond worth AU$500 million for ten years, on 1 September 2020.
After settlement, the funds would bolster short-term liquidity, which shall subsequently be utilised to pay AU$400 million in bonds due to terminate in June 2021.
A quick read; Travel Players Dealing with COVID-19 Crisis: Capital Raising Catches Wave
Financial performance
On 20 August 2020, Qantas unveiled its performance for the year ended 30 June 2020 and highlighted the Company is steering through extraordinary circumstances.
Qantas noted a fall of 21% (y-o-y) in its revenue and reached AU$14,257 million at the end of FY20, reflecting a fall of AU$4 billion primarily due to the COVID-19 pandemic and associated border restrictions in 2H FY20.
During FY 20, Qantas underlying profit before tax plunged by 91% (y-o-y) and reached AU$124 million from AU$1,326 noted in pcp, due to the impact of COVID-19 turmoil in 2H FY20.
Notably, the Company had recorded an underlying profit before tax of AU$771 million in the first half of FY20.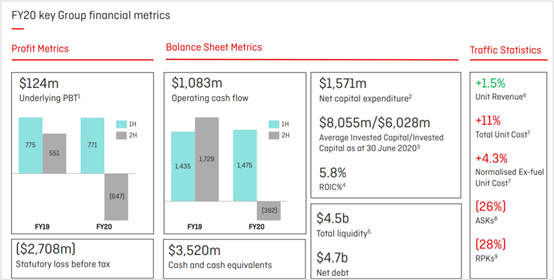 Source: Company Presentation, dated 20 August 2020
Recovery Plan
During the announcement of Qantas FY20 results, the Company also highlighted that it is considerably progressing on the initial steps of its 3-year recovery plan.
Source: Company Presentation, dated 20 August 2020
Noteworthy, the recovery plan targets AU$15 billion in savings across three years (FY21- FY23) from decreased activity via restructuring and right sizing, with ~ AU$1 billion per annum in ongoing cost savings from the financial year 2023.
Also, read; Qantas Frequent Flyer Teams up with Afterpay to earn Qantas Points with BNPL Platform