Highlights

The ASX 200 plummeted 46 points or 0.63% to 7,286.2 in the opening session.
All 11 sectors are trading lower today.
CIMIC Group has secured an AU$279-million contract to manufacture diesel locomotives for rail operator, Pacific National.
On the last day of the week, the Australian share market plunged at the opening tick, following a weak closing on Wall Street. Copper miners are dragging the index further as copper prices tumbled overnight due to power constraints in China and a stronger US dollar. The ASX 200 plummeted 46 points or 0.63% to 7,286.2 in the opening session.
Image Source: © Traviswolfe | Megapixl.com
World stocks continued to fall Thursday as investors' worries over inflation persisted and expectations of the US Fed to tighten its policy in the coming months grew stronger.
All three Wall Street major indices ended with a sell-off on Thursday, posting their worst quarters in a year. September was a volatile month, marred by concerns over COVID-19, inflation fears, uncertainty regarding Fed's policies, China's Evergrande and almost three-month high bond yields.
The Dow Jones Industrial Average fell 1.59%, to 33,843.92, while the S&P 500 tumbled 1.19% to 4,307.54. The NASDAQ Composite dropped 0.44%, to 14,448.58.
Read More: US stocks close in red on gloomy economic outlook
How has the market performed so far?
By 10: 30 AM AEST, the ASX 200 nosedived 124.6 points or 1.7% to 7,207.6, depicting sizable losses. The ASX All Ordinaries index also plunged a worrying 132.5 points or 1.74% to 7,497.2.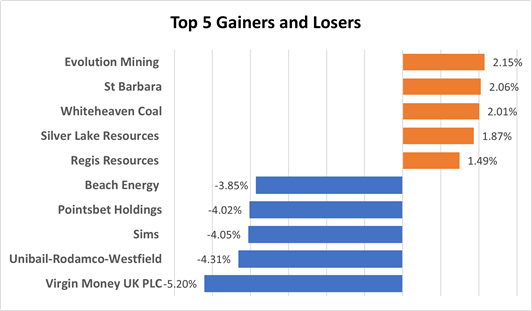 Data Source: ASX Website (as of 1 October 2021, 10:30 AM AEST)
The top ASX 200 laggards dragging the market were Virgin Money UK PLC (ASX:VUK) and Unibail-Rodamco-Westfield (ASX:URW), both losing 5.2% and 4.31%, respectively. On the flip side, top stocks trying to go against the gain in the early session were Evolution Mining Limited (ASX:EVN) and St Barbara Limited (ASX:SBM), both gaining 2.15% and 2.05%, respectively.
Coming to the market breadth, to not much of a surprise looking at deep cuts in the broader indices, all 11 sectors are trading in red.
Newsmakers
Pro Medicus Limited (ASX:PME)
The company has signed a deal with a US healthcare company, Novant Health.
The deal is valued at US$40 million and spans over a period of seven years.
It is the company's seventh North American contract in less than 18 months.
CIMIC Group Limited (ASX:CIM)
CIMIC Group has secured a contract to manufacture diesel locomotives for rail operator, Pacific National.
The contract is valid till the next seven years and is valued at around AU$279 million.
These locomotives would help in lowering emissions and operating costs, while at the same time, improving productivity.
CleanSpace Holdings Limited (ASX:CSX)
CleanSpace HALO meets New Zealand's Medsafe requirements and is added to the Web Assisted Notification of Devices (WAND) database.
The WAND listing enables CleanSpace HALO to be purchased and used by New Zealand healthcare providers.
In addition, the company has received international approvals for a combined AX chemical filter.
Brightstar Resources Limited (ASX:BTR)
The company's placement to raise AU$2.3 million received a strong response.
The company has issued 87 million ordinary shares at an issue price of AU$0.27 per share.
Proceeds from the placement will significantly strengthen the balance sheet to fund the JORC Resource drill out.
Archer Materials Limited (ASX:AXE)
The company's shares will be placed under a trading halt from today at the request of AXE.
The trading halt will be lifted on 5 October 2021 or when a pending announcement is released, whichever comes earlier.
Read More: Five tech penny stocks on ASX with decent returns