Highlights

The Australian shares pared back gains enjoyed through most of the day to close flat today, finishing just 1.7 points higher at 7415.4.
Weekly payroll jobs edged 0.2% higher in the two weeks ended September 25 in a positive move ahead of reopenings in Sydney and Melbourne.
Asian stocks were a tad higher as investors weighed corporate earnings, higher inflation, and risks from China's property sector.
Bitcoin has rallied to a record, topping USD 66,000 for the first time.
The ASX 200 wobbled but was up 0.3 per cent in afternoon trading to 7440 with the banks and mining sector trading higher. Eventually, the benchmark index ended up 1.7 points today to 7,415.4. Over the last five days, the index has gained 1.42 per cent and is currently 2.85 per cent off of its 52-week high.
On the sectoral front, 6 of 11 sectors traded higher. A-REIT was the best performing sector, gaining 1.65 per cent and 2.60 per cent for the past five days.
Who won? Who lost?
Today's top performer was Perpetual Limited (ASX:PPT) as its asset management teams delivered strong performance during the first quarter. The investment fund and trustee group's stock rose by nearly 8 per cent today.
ASX 200 finishes 1.7 points higher; Bitcoin tops USD 66,000
CIMIC Group Limited (ASX:CIM) and Healius Limited (ASX:HLS) also soared by 6 per cent and 4.6 per cent, owing to significant market updates. CIMIC traded up by over 6 per cent today. It delivered a 36 per cent drop in net profits to AUD 303 million in the nine months to September. Australia's biggest construction group, CIMIC has fully repaid all money owed on supply chain finance programs.
Pathology tester Healius is eyeing PCR testing for international travellers, after revealing it is continuing to see revenues surge due to local coronavirus testing. Besides, the Company's revenue for the three months to September hit AUD 689.9 million, compared to AUD 480.2 million for the same period last year.
Other top performers were Nickel Mines Limited (ASX:NIC) and Monadelphous Group Limited (ASX:MND).
In the red zone today, Flight Centre Travel Group Limited (ASX:FLT) led the pack, diving 5.4 per cent. It was an overall red day for travel stocks. Flight Centre stock dived after an AUD 400 million capital raise through a convertible bond and a concurrent AUD 73 million block trade at a 3 per cent discount to its Wednesday closing price. Its peers like Webjet Limited (ASX:WEB) and Corporate Travel Management Limited (ASX:CTD) also lost ground today. The declines highlight the ongoing uncertainty facing the travel sector despite the easing of COVID-19 restrictions in Sydney and ahead of Melbourne's own exit from lockdown on Friday.
Super Retail Group Limited (ASX:SUL) fell 4.6 per cent followed by The A2 Milk Company Limited (ASX:A2M), that fell 3.5 per cent after acknowledging the media reporting concerning a potential class action against the Company. Other top laggards today were Codan Limited (ASX:CDA) and Treasury Wine Estates Limited (ASX:TWE).
© Skypixel | Megapixl.com
Here's an economic update from home today- Weekly payroll jobs edged 0.2 per cent higher in the two weeks ended September 25 in a positive move ahead of reopening in Sydney and Melbourne after months of lockdowns.
Asian and global market performance
Asian stocks were a tad higher today as investors weighed corporate earnings, elevated inflation, and risks from China's property sector. Stocks plunged in Japan and swayed in China and Hong Kong.
Japanese shares fell today as the NASDAQ's weak overnight finish hurt risk appetite, prompting investors to sell heavyweight technology stocks, but expectations for strong earnings results from domestic firms limited losses. The Nikkei share average was down 0.30 per cent. Shares in Chinese property giant China Evergrande tumbled more than 10 percent at the open.
Key Indian indices were in the green at open but soon turned flat amid mixed global cues.
Beyond Asia, solid earnings from health care companies helped send stocks higher on Wall Street overnight. So much so, the benchmark S&P 500 was at the brink of another record high. The S&P 500 rose 16.56 points, registering its sixth straight gain. The Dow Jones Industrial Average rose 152.03 points and the NASDAQ fell 7.41 points.
Crypto market performance
Well, the debut of the first exchange-traded bitcoin futures fund in the US yesterday seems to have ignited a wave of crypto-mania!
Bitcoin, the world's largest cryptocurrency by market value has rallied to a record, topping USD 66,000 for the first time. The rise is evident as more professional investors, businesses and even the government of El Salvador buy into Bitcoin. Having said that, the main catalyst seems to be the optimism for greater mainstream acceptance in the wake of the successful launch of the inaugural exchange-traded fund for US investors.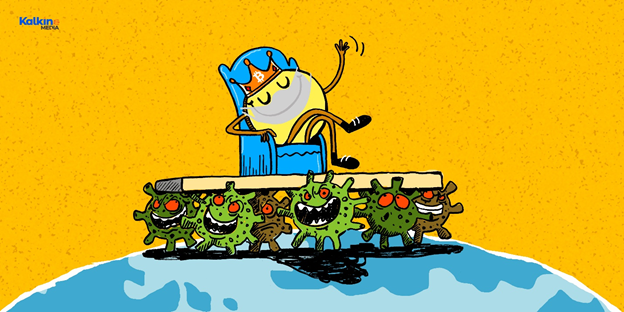 Copyright © 2021 Kalkine Media
Big moves tied to significant chart levels have been a common phenomenon in the little more than a decade history of cryptocurrency trading. Investors are getting more interested in Bitcoin as they're regularly seeking assets whose prices moves independently of everything else in their investing portfolios.
However, not everything is prim and proper in the crypto world. The problem with existing crypto markets is that there are several exchanges that are illiquid with varied prices. Besides, the extreme volatility, lack of transparency, ill- regularisation and manipulation, hacking are also factors to consider.
In this backdrop, Australia's Select Committee on Financial Technology and Regulatory Technology has tabled its final report into the regulation of cryptocurrencies such as bitcoin and Ethereum in Australia after six months of hearings and submissions on the topic. Let's see how things unveil for Australia's booming cryptocurrency industry!