Summary

The ASX 200 opened on a weak note on Friday after the US stocks fell from record highs in overnight trade.
By 10:10 AM (AEST), the ASX 200 was trading 0.94% lower, at 7,272.20.
Weakness in tech stocks also weighed on the market.
The ASX 200 opened on a weak note on Friday after US stocks fell from record highs in overnight trade on concerns over the impact of coronavirus' Delta variant on the economy.
The benchmark index opened 0.15% lower, at 7,330.30, on the last trading day of the week.
By 10:10 AM (AEST), the ASX 200 was trading 0.94% lower, at 7,272.20.
On Thursday, the ASX 200 rose 0.2% to 7,341.4. During the session, the benchmark touched its highest level since 18 June 2021.
On Wall Street, the Dow Jones was down 0.75%, to 34,421.94, while the broader S&P 500 index lost 0.86% to 4,320.83. The tech-focussed NASDAQ Composite fell 0.72%, to 14,559.79.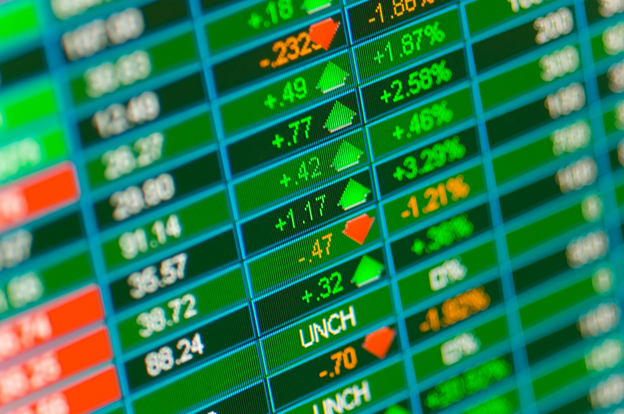 Source: ©Miflippo | Megapixl.com
What happened so far?
The index has lost 0.54% for the last five days and sits 1.85% below its 52-week high.
The domestic market was trading in red in early trade, led by weakness in technology stocks.
Technology sector was down nearly 2.5%. While Afterpay fell 3.7%, Nearmap dropped 4.2%, and Zip fell 4.9%.
Consumer staples and industrials were also down over 1%.
READ MORE: Five exciting ASX-listed cannabis stocks for FY2022
Energy was the only sector to trade in green. The sector was up 0.99%. The broader All Ordinaries index was down 0.947%, while the ASX 200 VIX Index was up 11.159%.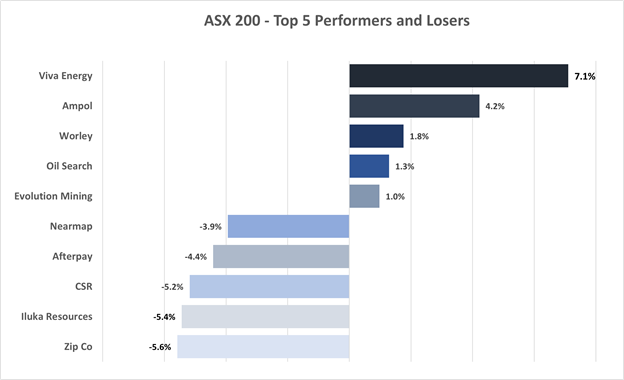 Source: ASX website, as of 10:30 AM (AEST)
Bonds and dollar
The Australian 10-year bond yields were trading 0.74% lower, at 1.336. The yield on 10-year US Treasury notes fell 3.5 basis points to 1.286%.
The commodity price-sensitive Australian dollar was trading 0.05% lower, at 0.743. The dollar index was down 0.297% at 92.493.
READ MORE: Top ten fully-franked gold stocks with high dividend yield
Commodity sector
Crude oil prices ticked up on Thursday after the US government data revealed that crude and gasoline inventories fell more than expected. Brent crude oil futures rose 0.9% to settle at US$74.12 per barrel, while US West Texas Intermediate futures were up 1%, at US$72.94 per barrel.
The Opening Bell || ASX 200 Falls: Will Weakness In US Stocks Continue To Weigh On Market?
While Brent oil futures were trading 0.17% higher at US$74.50, WTI futures were trading 0.64% higher at US$73.37.
READ MORE: A glance at the top dividend stocks for the financial year 2022
Gold prices eased on Thursday as Wall Street recouped some losses from the lows and US Treasury yields edged lower. The US gold futures closed 0.1% lower at US$1,800.20.
Gold futures were trading 0.06% higher at US$1,801.35.
Metals' update
Benchmark iron ore futures on the Dalian bourse closed the session 2.9% lower, at 1,188 yuan a tonne.
The benchmark three-month copper on the London Metal Exchange (LME) traded 1.3% lower, at US$9,334 by 1605 GMT.
Copper futures were trading 0.06% higher, at US$4.2715.
Source: ©Ymgerman | Megapixl.com
Newsmakers
Rural Funds Management said that it had completed the institutional component of its fully underwritten 1 for 8.4 accelerated pro-rata non-renounceable entitlement offer in Rural Funds Group (ASX:RFF) to raise nearly AU$100 million.
Viva Energy Group (ASX:VEA) has forecast H12021 underlying EBITDA between AU$390 million and AU$410 million, a 34% rise from the corresponding period of last year.
Audinate (ASX:AD8) said that it expects FY2021 revenue of US$25 million, a rise of 23% from the previous corresponding year.
Perenti (ASX:PRN) announced that its subsidiary Barminco has signed an AU$280-million four-year contract with Panoramic Resources for development and production work at the Savannah Nickel Project in Western Australia.
Objective Corporation (ASX:OCL) said that it expected the net profit to grow by 45% to AU$11 million in FY2021. The sales would go up by 36% to AU$95.1 million.
READ MORE: Which are the 10 hottest ASX-listed multi-bagger resource stocks?
READ MORE: Six cryptocurrencies ready to make a big splash. Check them out here