Afterpay Limited (ASX:APT) has demonstrated a blistering rally over bullish market sentiments developing post the Company reported a record increase in monthly sales volume across many geographical areas such as the United States and Australia.
To Know More, Do Read: ASX 200 Listed Afterpay (ASX:APT) Hits New Monthly Sales Milestone
The Company reported the milestone on 3 December 2020, which further attracted bullish market sentiments, leading to a break in the consolidation. The current rally in the stock that started on 11 December 2020 took the price to another record high of $123.39 (as on 18 December 2020), and the charts are looking bullish.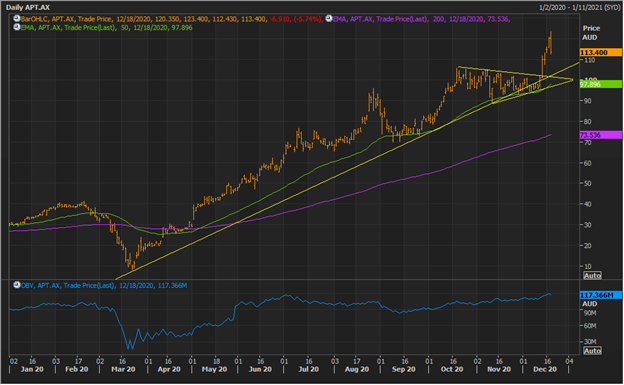 APT Daily Chart (Source: Refinitiv Eikon Thomson Reuters)
The stock of the Company has been under a continuous uptrend since the onset of the March 2020 quarter, and post surging to its previous high of $105.80 (intraday high on 20 October 2020), APT witnessed some level of consolidation, which could be inferred from the symmetrical triangle pattern observed on the daily chart.
In the past few trading sessions, APT broke out of the consolidation pattern (symmetrical triangle) and soared to a new record high over prevailing bullish sentiments. Furthermore, the recent price rally also witnessed volume support with OBV moving in tandem with the price action, reflecting on larger participation in the directional up move.
APT Daily Chart (Source: Refinitiv Eikon Thomson Reuters)
On further applying a few indicators that gauge trend strength and volatility indicators, it could be seen that APT recently gave a volatility breakout with prices crossing the +2 standard deviation of the 20-day simple Bollinger Band®.
Since the volatility breakout, the stock has been trading in the upper range of the band but has just retracted back; the whole Bollinger Band® set up could attract further bullish sentiments ahead unless the stock revises the -2 standard deviation of the band, which could ideally act as short-term support for the stock.
The Plus DI is presently trading above the minus DI suggesting that the majority of the volatility in the stock over the past 14-day trading sessions has been towards the upside, which is further reflecting on the prevailing bullish sentiment around the stock.
Furthermore, after witnessing a sharp decline over the previous consolidatory move, ADX is finally sloping upwards, reflecting that the stock is once again trending.
APT Weekly Chart (Source: Refinitiv Eikon Thomson Reuters)
The recent consolidation in the stock could be further confirmed better on the weekly chart with the stock showing a set of outside bars followed by many inside bars. During its consolidation, the stock remained under bullish sentiment as it remained well above Span A, which itself is above Span B of the Ichimoku Kin Hyo.
Furthermore, the conversion line (dark blue) is presently trading above the base line (light blue) with a positive cross, suggesting that current prevailing sentiments are bullish in nature.
Also, the technical indicators such as 12,26,9 MACD and 14-day RSI are moving in tandem with the price action, suggesting that the short-term trend is also turning towards the north