Source: ShutterstockProfessional
Summary

Biotech penny stocks are extremely volatile, given the unpredictable nature of the biotechnology industry.
Positive clinical developments and regulatory approvals for biotech penny players could potentially trigger a robust stock rally.
Picking penny stocks in the biotech space requires extreme caution, and investors should focus on metrics related to drug development and market potential.
Amid several tailwinds, including the ever-increasing burden of chronic and unpredictable indications, the growing ageing population, and the evolution of new technologies & treatments, the need for healthcare-related services has gone up sharply and would continue to do so in the coming years.
While blue-chip biotech companies like CSL Limited (ASX:CSL) may be prominent players in the sector, there still is a huge unaddressed market, and that's where biotech penny stocks can make their presence felt. Market participants believe that penny stocks that target a niche have the potential to grow at a pace must faster than their mid-cap or large-cap peers.
Source: Copyright © 2021 Kalkine Media Pty Ltd.
However, before investing in penny stocks in the biotech space, investors should look at critical metrics, including drug/therapy pipeline, partnerships/collaborations with pharmaceutical behemoths, therapies/treatments the Company is developing and its cash position.
Penny stocks are highly volatile and biotech penny stocks more so, given the biotech industry's high unpredictability. If a company has several products in the pipeline, there is a higher possibility that one of them might come into the market. However, if the Company relies on just one or two pipeline products, the risk increases, irrespective of how promising the pipeline is.
Positive clinical and business developments for these players could trigger a robust stock rally.
With this backdrop, let us acquaint you with 5 ASX-listed biotech penny stocks-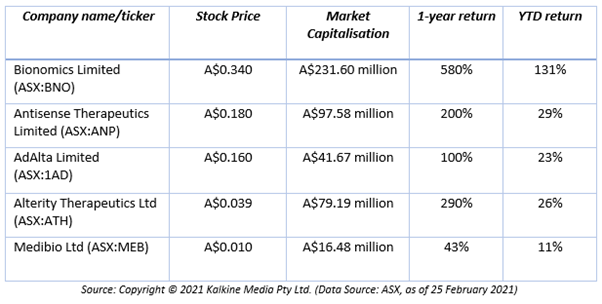 A global, clinical-stage biopharmaceutical player Bionomics Limited us engaged in leveraging its proprietary platform technologies to discover and develop a deep product pipeline of innovative drug candidates.
BNC210 is the lead compound of Bionomics and is currently in Phase 2 trial for the treatment of PTSD (Post-Traumatic Stress Disorder). In November 2019, BNC210 had obtained Fast Track designation by the US FDA for PTSD treatment.
It is noteworthy to mention that beyond BNC210, the Company has a strategic partnership with Merck & Co. Inc with two drugs in early-stage clinical trials to treat cognitive deficits in Alzheimer's disease.
Source: © Ronstik | Megapixl.com
On 22 February 2021, Bionomics announced favourable results from the pharmacokinetic study in healthy participants by using the recently developed oral tablet formulation (solid dose) of BNC210.
Antisense Therapeutics Limited (ASX:ANP)
Biotechnology player Antisense Therapeutics Limited is engaged in the development as well as commercialisation of antisense pharmaceuticals for the unmet medical needs of rare diseases. Currently, ANP is developing ATL1102 for patients having Duchenne muscular dystrophy (DMD). Antisense products are in-licensed from a leader in antisense drug development, Ionis Pharmaceuticals Inc (NASDAQ:IONS).
On 25 February 2021, the Company advised that the Paediatric Investigation Plan to develop ATL1102 to treat DMD was submitted to the European Medicines Agency (EMA) Paediatric Committee. The Company is planning to conduct a multi-centre, randomised, double-blind placebo-controlled study of ATL1102.
Melbourne headquartered clinical-stage drug development company AdAlta Limited uses its proprietary i-body technology platform to solve challenging drug targeting problems. Currently, AdAlta is conducting a Phase 1 clinical trial for AD-214 (lead candidate of AdAlta) for the treatment of IPF (Idiopathic Pulmonary Fibrosis) and other human fibrotic indications.
On 24 February 2021, the Company disclosed that it had obtained the Orphan Drug Designation (ODD) for AD-214 from the US FDA for IPF treatment. ODD permits AD-214 some specific benefits during development for IPF, including-
eligibility for market exclusivity of seven years post-approval.
50% tax credits of qualified clinical drug testing costs awarded on approval.
Additional protocol assistance.
Reduced review times and waiver of certain marketing authorisation application (MAA)
Alterity Therapeutics Limited (ASX:ATH)
Alterity Therapeutics is engaged in developing first-in-class therapies to treat neurodegenerative indications. ATH434 is the lead candidate of the Company, and it has the potential to treat Parkinson's disease.
On 25 February 2021, the Company updated the market with its interim half-year FY21 report. The key highlights are-
Several significant advancements were achieved during the reporting period and continued strengthening of the safety profile of ATH434.
In November 2020, USPTO granted Alterity a patent for its next-generation drug development portfolio focused on neurodegenerative indications. The new patent will provide support to the drug development portfolio expansion of the Company.
Moreover, in February 2021, Alterity announced a grant from the Michael J. Fox Foundation to determine the optimal dosing of ATH434 for patients with Parkinson's disease based on brain iron imaging.
Mental health technology player Medibio Limited is engaged in building the tools to objectively measure mental health and wellness by early detection and screening.
It is noteworthy to mention that in January 2021, Medibio obtained CE Mark approval for MEBsleep. With the CE Mark approval, Medibio can commercialise MEBsleep across the European Economic Community.
At present, the Company is investigating commercialisation pathways with European academic groups and pharmaceutical companies focused on behavioural sleep medicine.
ALSO READ: 5 ASX penny stocks in healthcare space