Summary

The retail sector has bounced back strongly in the past 12 months. While the consumer discretionary sector performance was up ~67%, the consumer staples sector grew approximately 5%.
Eagers Automotive delivered massive growth last year and now anticipates record net profit before tax from continuing operations in Q3 FY2021.
Woolworths announced that it is increasing its shareholding from 47% to 75% in Quantium.
Temple & Webster reaffirmed its strategy of capitalising on the shift in focus on online shopping.
Australia Retail sector was amongst those sectors that got hurt during the pandemic period. However, companies that provided online services could easily sail through the period. In the last one year, Consumer Discretionary sector grew significantly by ~67%, while the consumer staples sector grew by a relatively soft 4.89%.
A recent report published by the Australian Bureau of Statistics (ABS) on 21 April 2021, Australian retail turnover increased by 1.4% in March 2021. In Queensland, retail sales dropped slightly. Retail sales in Greater Brisbane was impacted due to the lockdown restrictions from 29 March 2021. Clothing, footwear and personal accessory retailing, and department stores grew during the period while food retailing dropped by 1%.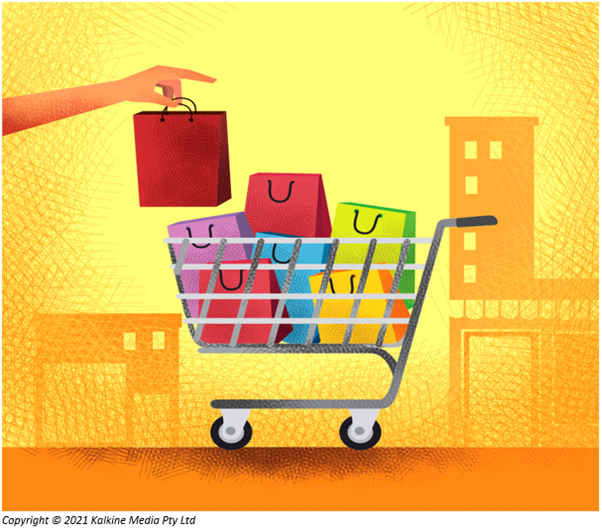 This week for a difficult one for the retail players, with companies including Lovisa Holdings Ltd (ASX:LOV), Harvey Norman Holdings Limited (ASX:HVN), and Temple & Webster Group Ltd (ASX:TPW) witnessing a drop in their respective share price. While Wesfarmers (ASX:WES) shares were in line, Eagers Automotive Limited (ASX:APE) shares ended the week 7.08% higher.
This article will look at three of these Australian retail shares - Eagers Automotive, Woolworths and Temple & Webster.
ALSO READ: Three ASX retail stocks trading at all-time highs
Eagers Automotive Limited (ASX:APE)
On 16 April 2021, Eagers Automotive Limited, the leading automotive retail group in Australia and New Zealand, released its trading update for three months ended 31 March 2021.
The Company anticipates registering an Underlying Operating PBT from continuing operations of ~AU$98 million. On a statutory basis, NPBT from continuing operations would be AU$105 million.
The strong market dynamics drove the result during the period due to increased demand coupled with the continuing benefits of the material cost out the program over the past 12 months.
Other than this, the Company also updated about the selling of its Daimler Truck Operations as well as Milperra property for AU$108 million to Velocity Vehicle Group. The Company confirmed that the transaction would complete in 2H 2021, subject to fulfilment of conditions precedent.
DO READ: ASX 200: Who are the movers and shakers swaying the market today?
Woolworths Group Limited (ASX:WOW)
Woolworths Group Limited was in the spotlight after the Company increased its shareholding from 47% to 75% in Quantium for AU$223 million. This resulted in further strengthening of its partnership with Quantium.
Quantium is renowned data science and advanced analytics business. In 2013, Woolworths acquired 50% of Quantium for ~AU$20 million. WOW entered into a long-term partnership with Quantium that allowed WOW and its supplier partners to make customer-first decisions around pricing, ranging as well as promotions.
Since 2013, Quantium has experienced exponential growth in ANZ.
Post the end of the deal, Quantium would be a component of Woolworths Group. The new business unit would be known as Q-Retail. Q-Retail would combine the collective data science and advanced analytics capabilities of Woolworths and Quantium and would concentrate on delivering against WOW's advanced analytics objectives.
INTERESTING READ: Woolworths Group (ASX:WOW) marks a strong start to FY21, online sales and net profit go higher
Temple & Webster Group Ltd (ASX:TPW)
Temple & Webster Group Ltd, the largest pure-play online retailer in the furniture and homewares market, provided a trading update and also reaffirmed its strategy.
Source: © Anyaberkut | Megapixl.com
Based on the robust trading over the second half of FY2021 to date and seeing the customer's shopping pattern, the Company reaffirmed its plan of investing to take advantage of the switch from offline to online shopping in the furniture homewares class. This process would involve short as well as long-term growth opportunities.
TPW thinks that the COVID-19 pandemic has fast-tracked online acceptance in the Australian furniture & homeware market. During 2020, the Company witnessed a 20% growth in furniture & homewares bought by customers in the US. The Company feels that Australia is also following the same pattern. In Australia during 2020, around 9% of furniture and homewares were purchased online. TPW expects the online penetration would continue to grow significantly.
Q3 Trading Update:
Revenue increased by 112% on pcp.
Active customers reached ~750,000.
April revenue increased by more than 20% on pcp.
Stock Information (As of 23 April 2021)