Summary

The increase in the level of digitisation has led to a rise in the number of scams in Australia, resulting in substantial financial losses.
archTIS signed an agreement with the Australian Department of Defence for software support services to expand NC Protect implementation.
Tesserent delivered a record-breaking quarter with significant growth across key metrics. The Company also acquired Secure Logic's security services division recently.
Cipherpoint built up its digital marketing drive for cp.Discover, helping the firm secure a new client from the US.
As more and more things get online, the number of cases related to online scams have gone up considerably. As per ACCC Scamwatch's March 2021 report, there were 22,875 scam cases which resulted in a loss of ~AU$20.224 million. These scams were done majorly through phones, followed by text messages and emails.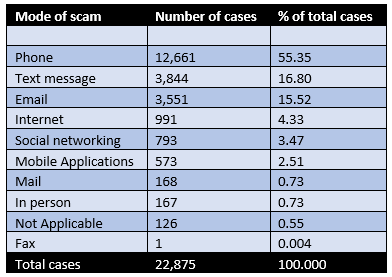 Copyright © 2021 Kalkine Media Pty Ltd (Data Source: Scamwatch March 2021 Report)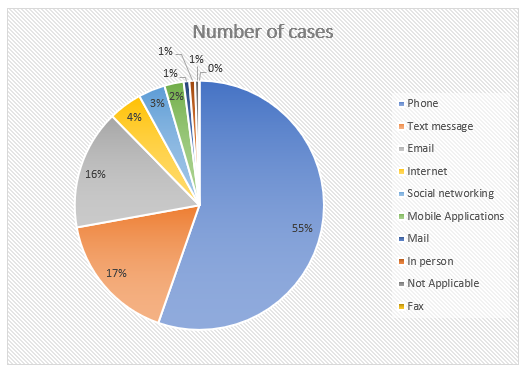 Copyright © 2021 Kalkine Media Pty Ltd (Data Source: Scamwatch March 2021 Report)
Scamwatch continues to be active, updating people to remain cautious about coronavirus-related scams. Hon Andrew Hastie MP, Assistant Minister for defence, has urged people to keep updating the software on electronic devices to defend against cybercriminals and protect from the online threat.
As most of the day to day activities are done online now, players from the cybersecurity space play a critical in protecting people and businesses from these scams. Some key players in this area include WhiteHawk (ASX:WHK) and Data#3 Limited (ASX:DTL).
This article will take you through three ASX-listed cybersecurity stocks - archTIS, Tesserent, and Cipherpoint.
ALSO READ: Needle on three Australian tech stocks in the cybersecurity space
archTIS Limited (ASX:AR9)
archTIS Limited provides innovative software solutions for the safe collaboration of sensitive information. On 03 May 2021, the Company signed an agreement with the Australian Department of Defence for software support services worth AU$296K for the expanded implementation of NC Protect.
Source: © Lichtmeister | Megapixl.com
Q3 FY2021 Highlights
The Company delivered a record-breaking quarter with 84% growth in total revenue to AU$1.25 million, gross profit by 57% to AU$802K and recurring revenue of 57% to AU$421K.
During the quarter, the Company continued its robust growth path for accelerated revenue as well as recurring licensing via internal sales following the recent acquisition of Nucleus Cyber in December 2020. The Company also extended its customer base with multiple contracts secured during this period.
The Company advanced its international sales distribution plan to guarantee constant delivery of client growth, create better overall market awareness for clients, prospects, partners, staff, and shareholders, and expand its executive team.
Sales Regions expanded to US-FED, Singapore, as well as London. The net cash by the quarter-end stood at AU$12 million.
Outlook
In the upcoming period, the Company would invest in expanding international sales distribution, improving product innovation and market awareness. AR9 would also aim at delivering strong revenue growth along with an escalating recurring licensing stream.
INTERESTING READ: A glance at 2 ASX penny shares - MGC Pharmaceuticals and archTIS
Tesserent Limited (ASX:TNT)
Tesserent Limited is the provider of Internet SaaS to Australian and global clients.
On 30 April 2021, the Company completed the acquisition of Secured Logic's Managed Security Services division. The acquisition would help the Company bolster its leading Government division with substantial synergy advantages and cross-sell prospects. It would also support strengthening its goal of attaining an AU$150 million run rate in FY2021.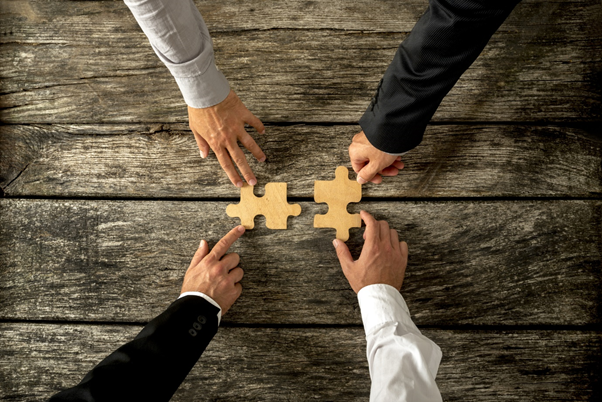 Source: © Gajus| Megapixl.com
Q3 FY2021 highlights
Tesserent reported a record monthly turnover of AU$9.1 million and cash receipt AU$21.9 million in Q3 FY2021.
TNT achieved a recording operating EBITDA of AU$1.7 million for the quarter.
Record operating cash flow of AU$1.8 million.
The Company was included in S&P/ASX All Ordinaries during the period.
Acquisition Growth Fund improved by AU$20 million.
Cash in hand as of 23 April 2021 stood at AU$25.5 million.
Outlook
The Company's goal in FY2021 would be to continue its acquisition strategy to expand on Cyber 360 capabilities and market share. It would encourage innovation and grow proprietary intellectual property to lead high-margin product & service offerings. TNT would also build out high-value recurring annuity revenue streams.
Cipherpoint Limited (ASX:CPT)
Information Technology security firm Cipherpoint Limited continued to develop pipeline prospects with NTT DATA Deutschland for Austria, Switzerland and Germany during the March quarter (Q1 FY2021).
It built up its digital marketing drive for cp.Discover. The campaign helped CPT to secure a new US client for this capability. However, COVID-19 related shut-downs across Europe hit the business. Despite these challenges, the management is committed to transforming pipeline leads to revenue at the first available opportunity.

Source: © Etiamos | Megapixl.com
Since the closure of the March 2021 quarter, the Company released new versions of its cp.Protect product that extends several supported applications needed by its key clients and launch new feature upgrades. The Company expects these upgrades would open opportunities to expand the subscription base in the short run from the active customer.
Outlook
In the upcoming period, the Company would concentrate on providing its unique discovery, classification, and protection solutions to new clients as well as markets.
Developments in April 2021
On 19 April 2021, CPT announced that it deployed a paid Proof-Of-Concept for cp.Discover with new client Acronym Media, Inc.
On 06 April 2021, CPT completed the acquisition of Brace168 Pty Limited.