Summary

ASX 200 index has delivered a remarkable return of over 45% since March dip.
Joe Biden's win as the US President and COVID-19 vaccine optimism enabled ASX 200 to observe its best month since the launch of the index in November 2020.
Several ASX-listed stocks have also delivered lucrative returns in reviving from March 2020 crash.
Investors monitoring the equity market landscape seem to have a golden chance to beef up their portfolio.
While the COVID-19 pandemic presented several unprecedented challenges for the Australian economy, the spectacular performance of the equity market has left market participants in awe.
Although March 2020 saw one of the most dramatic equity market crashes in history, the Australian share market has recovered ferociously from the downturn. The spectacular return of over 45% delivered by the ASX 200 since March dip testifies the same. Interestingly, the ASX 200 index also observed its best month since the launch of the index in November 2020, surging by over 10%.
While some experts believe that these November gains are expected to continue in December, giving rise to the Santa Claus rally. Others opine that a powerful November can steal the Santa from the share market this time.
What are the factors driving the ASX 200 higher?
What are the recession-proof themes to look at?
Notably, stocks belonging to virus-immune themes such as healthcare, technology and fintech sectors particularly dazzled during the COVID-induced market volatility, driving ASX performance higher.
While the impact of pandemic was mostly negative for commodities, there were also some outliers in the precious metals segment, garnering strong investors' interest.
Below table summarises a list of 10 popular ASX stocks that have delivered lucrative returns since March crash: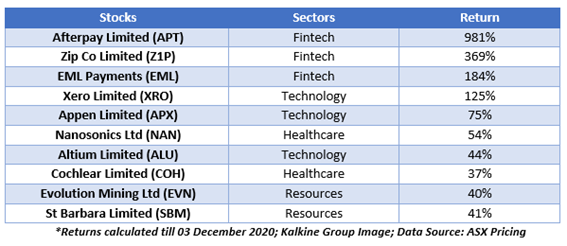 What are the tips for equity market participants?
Investors monitoring the equity market landscape for investment opportunities in the current scenario have a golden chance to beef up their portfolio.
Some tips that can help investors sweep through the virus-driven turmoil and secure their financial future, include:

Stay invested for a longer timeframe and escape panic selling
Choose investment strategy based on your risk appetite, financial goals and holding period expectations
Use fundamental analysis to make winning stock picks
Take exposure to income winners, established growers or disruptive trend-based players
Dodge emotional drivers like fear and greed
The current scenario demands rational decision making on the part of investors without allowing market variations hijack their returns and minds. It appears to be the right time for investors to firm up their individual financial plans in order to breeze through these unprecedented times.