Hey, I have sent you a request on Facebook and Instagram. Let us be friends - these are the social norms of the contemporary society.
Social media has been the obsession of an overstressed society since many years now. In unforeseen aftermath of the lockdown and social distancing consequence of the lockdown courtesy Coronavirus, social media has taken to various platforms/applications (apps) to fray boredom and anxiety. Also, Brick and mortar retailers have encountered with store closure, low footfalls, and change in shopping patterns have forced people to shop for the stuff online to feel safe and secure via e-commerce platforms.
In the wake of the current crisis, lockdown and social distancing have forced a billion people to stay hooked up on various social media applications such as Facebook, Instagram, WhatsApp, Snapchat to be in constant with their friends and family.
Not only social media behold surge in the usage, but the online business has also witnessed a boom to meet the demand of people.
It will come as a pleasant surprise when we say Facebook, the social media giant with its family of apps such as WhatsApp and Instagram is pushing into virtual shopping store called Facebook Shops. The app that has been connecting friends and family is now stepping a foot further and connecting small businesses with people. Facebook Shops is a new way to help businesses suffering amid COVID-19 to establish a single virtual marketplace for customers to access on both Facebook and Instagram.
Don't you think it is fancy hearing both Facebook and shop together? Indeed, it is. But what is this Facebook shop all about?
It is a service that will help the small businesses to showcase and sell their products via social media platform bridging the gap between the buyers and sellers. No matter how big or small the business is all that matters is bringing the business online and engage with the customers whenever and wherever they want to.
The question arises that wasn't Facebook into online commerce between its users via Marketplace? Let's deep dive into it and get acquainted with the same-
Marketplace vs Facebook Shops
Marketplace looks like an online network with classified ads and forums from across the world, whereas Facebook Shops are pushing ahead to create an e-commerce platform for various businesses.
Moving forth, let us see what this new buzz is all about.
The state of play – Facebook Shops in action
Facebook Shops were launched on 19 May 2020 in the US. Initially, it will be free for businesses across Facebook as well as Instagram.
This shop will showcase the businesses products in an uploaded catalogue that they want to feature along with the option to customise the look of their shop via cover image and accent colours.
Catalogue; Source: Facebook
These shops can be spotted on a business owned Facebook or Instagram profile, as well as through stories or ads in an account on these platforms.
Customised storefront reflecting the business brand, Source: Facebook
The amazing feature of personalisation and customer engagement is taken care of by Facebook Shops. These shops will avail the messaging capabilities of Facebook, and its family messaging capabilities, wherein the users will be able to connect with the businesses through - Instagram, WhatsApp, Messenger and track deliveries, ask questions directly and any other support.
The Facebook shop also gives an option to hawk products via live streams wherein the businesses will be able to tag products and one-click on this tag will redirect to the order page.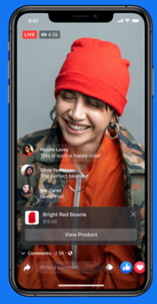 Live Shopping Features, Source: Facebook
Customers can make in-app purchases through Facebook or Instagram, and transactions will be completed via Checkout feature in the United States.
Customer engagement via Loyalty points
The engagement plans outshine the best businesses and build their loyal customer base. Facebook is making all possible efforts to increase the footfall in its virtual shop and enhance customer experience.
It is testing and creating tools that will be incorporated in Facebook Shops to help businesses create, manage and execute a loyalty points programme.
Did you read; Lens Through Zoom's Growth Story Amidst Growing Digitisation Trend
Read between the lines - work with partners
Facebook is playing at the front foot and supporting the small businesses by working more intimately with partners such as Shopify, BigCommerce, WooCommerce, ChannelAdvisor, CedCommerce to turn this social network platform into a one-stop shopping destination. These organisations will accelerate the growth of Facebook Shops by helping small businesses commence their businesses online using the dynamic tools that these organisations offer and prepare the businesses for the future.
Facebook and Shopify have launched a new, unified Facebook channel which will make it easy for Shopify merchants to grow their businesses across the social giant and its family of apps. Automatically, retailers will be able to unite their Shopify business to Facebook in one particular place, in the meantime making their consumers feel indigenous to each app.
New online storefront – The big picture
During this time of economic turmoil, the small businesses which are the throb of our society have been facing the threat of survival. These business owners advertise and post on Facebook, for which Facebook receives a fee (amount) whenever an item is purchased.
Also, the Facebook Shops are free to create, and this service showcases an attempt to use the massive amount of user data for recommending products and collect information on shopping pattern, which in turn could drive the growth in the advertising business revenue, payments, and other services.
Also, this is the first step by the social giants towards the creation of competition to successful online businesses such as Amazon, eBay.
Did you read; How is Artificial Intelligence helping in dealing with the COVID-19 crisis?
Post this announcement of Facebook Shops, the impact on the stock performance of Facebook, Inc. Common Stock (NASDAQ:FB) has been positive and the FB stock last traded on Nasdaq at $229.97 as on 20 May 2020, up by 6.04% from its previous close.
March quarter Operational activities
Facebook has very well incorporated the phrase React to cope and Respond to thrive with the launch of Facebook Shops amid COVID-19. However, there are various other responses to COVID-19 by this Tech titan as well such as -
Launch of COVID-19 information center on Facebook that provides real-time information, health tips, and offer and ask for help.
Investment Commitment of ~$300 million to broader community inclusive of ~$100 million programme in order to support small businesses and $100 million in support of news industry.
Donation of $20 million to support COVID-19 relief efforts and $25 million to support healthcare workers on the front lines.
18% surge in March quarter revenue
Also, Facebook generated strong financial performance for the quarter ending 31 March 2020.
The tech titan reported the revenue of $17,737 million at the end of Q1 2020, an increase of 18% y-o-y, and its Cash and cash equivalents stood at $60.29 billion at the end of Q1 2020. Income from operations grew 78 per cent to $5,893 million y-o-y. Also, there was a steep decrease in advertising revenue in March to $17,440 million in Q1 2020 from $20,736 in Q4 2019.
Did you read; Charting-out Earnings Growth for these 3 COVID-19 proof stocks
Bottomline
In the wake of the current crisis, businesses have had been adapting to minimal or non-existent physical storefront footfall and Facebook Shops has arrived as a life support to save them from demise. It will be interesting to see how well this new lifeline in the form of Facebook Shops is absorbed in the market and further unleash the advertising revenues for the social giant.
(Please Note: Currency is reported in the US Dollar unless stated otherwise.)