Melbourne based multinational gold miner and explorer, OceanaGold Corporation (ASX: OGC) appears to be laying the foundations of the long-term prosperity through its pro-active response to the COVID-19 situation. The versatile approach of the company has allowed it to align its operations as per the local regulatory requirements at its various global locations.
The exploration company is operating as usual with protocols in place to manage COVID-19 risks. The focus of its crisis management remains on employees, business operations and financial stability, while the company strives to ensure overall sustainability as its principal driver.
The government's directive and the near-term well-being of its employees and community, in general, has been the pivotal point to the adjustment in the operations. In the meantime, OceanaGold continues to advance organic growth opportunities and ensure that its balance sheet remains well-funded for managing the near-term risks to foster long-term initiatives.
Three-Principle Employee-Centric Approach Amidst COVID-19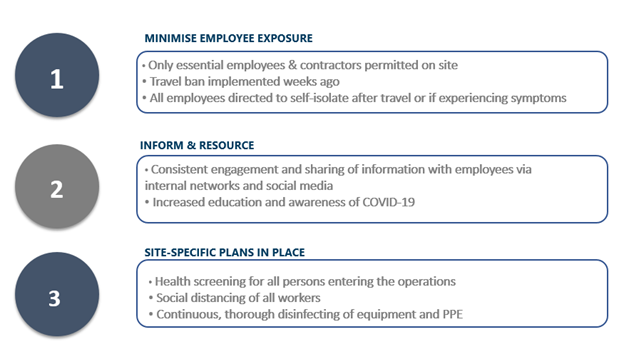 Current Operations State: Managing Near-Term Risks, Aiming for Long-term Goals
The current operations of the company are centric to managing the near-term risks while aiming for long-term goals. While New Zealand moves to Alert Level 3, OGC seems to be well prepared to operate as clearly demonstrated through its strict health and hygiene protocols and safe operating practices at Macraes and Waihi.
Waihi
Pertaining to new alert status, the development of the Martha Underground at Waihi along with regional exploration activities have resumed while adhering to the required safe practices.
Under Alert 4, New Zealand government had maintained that gold mining, not an essential activity, should conduct a certain level of on-site activity for maintaining environmental monitoring, security and safety. While, Q1 production was completed in early March, the processing plant was placed on care & maintenance.
Macraes
At Macraes, the Company has resumed mining and processing activities under strict and safe operating practices.
Besides, OGC worked with New Zealand regulators for identifying the appropriate level of activity towards satisfying the earlier Alert Level 4 requirements. The company continued with the processing of stockpiles and broken stocks, and plant maintenance as per the work plan lodged with the regulator.
OGC operated with extremely strict health & safety protocols in place, with 85% reduction in the workforce. Besides, the company did not face any material critical supply constraints.
Haile
OGC has been operating at full capacity at Haile. Below are some key developments at Haile Gold Mine which remained unaffected by government directives:
Achievement of record daily mining & milling rates, with strict Health & safety protocols
Despite increased rainfall and COVID-19 protocols, Q1 production to plan with slightly higher costs
All 15 Komatsu 730E trucks operating
No material critical supply constraints
Didipio
On the entire island of Luzon, the government of the Philippine government has implemented an enhanced community quarantine. The company's operational camp has implemented a temporary lockdown of staff at the mine. Strict protocol towards workforce health and well-being is being followed.
In accordance with Government's COVID-19 measures, the Skeleton workforce is placed at mine, while maintaining Environmental safeguards, operational readiness and emergency medical support.
Michael Holmes, President and CEO of OceanaGold stated- "We continue to be focused on managing the near-term risks while executing on our operational plans, working with the Philippine government to renew our FTAA and resume operations at Didipio, and advancing our solid pipeline of organic growth opportunities including the Martha Underground."
With these developments, and Haile operating at full capacity, OGC seems to be well positioned to proceed on its project goals and has reaffirmed its 2020 guidance.
Glimpse At OceanaGold's Cash and Liquidity Position amidst the crisis
Current Impacts of COVID-19
The pandemic situation on the corporate level has reduced travel, training, consultants, FX etc. While in Haile, the full operations continued with limited COVID-19 impact, the confirmed four weeks suspension in Waihi involved ~ $1.8 million total cost.
While, Macraes' operations have been considered safe, secure, compliant and thereby minimising risk. At Didipio, OceanaGold is reducing cost outlook with COVID-19 impact.
Liquidity Overview
OceanaGold seems to be holding enhanced cash position that could be used for managing COVID-19 related risks. Apart from having a strong relationship with the bank group, the company also has its cost options and internal capital Identified, providing robustness to its liquidity position.
OGC is working on near-term management as an integral component of its long-term planning, while managing near-term risks, executing current operational plans and investing in organic Growth.
OGC traded at $2.320 on 28 April 2020 (1:00 PM AEST).