At the close of trading session on 1st December 2020, the equity market of Australia ended in green as the benchmark index S&P/ASX200 rose by 1.08% to 6588.50. On the same day, consumer cyclicals sector rose by 1.94% and basic materials sector increased by 1.32%.
Sector Summary (Source: Refinitiv (Thomson Reuters))
Movements on the Wall Street:
On November 30, 2020, Dow Jones Industrial Average witnessed a decline of 0.90% to 29,638.64. Notably, NASDAQ Composite declined 0.05% to 12,198.74.
Top Gainers and Losers: Domino's Pizza Enterprises Limited (ASX: DMP) and Collins Foods Limited (ASX: CKF) soared by 12.36% and 10.91%. On the flip side, Viva Energy Group Limited (ASX: VEA) fell by 3.10%.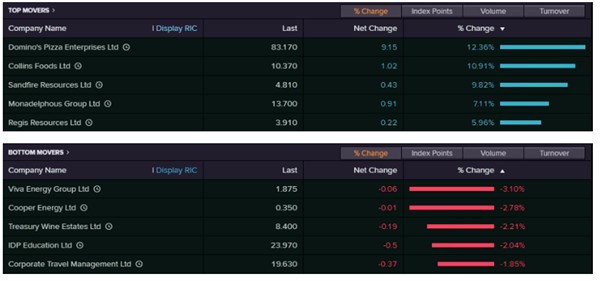 Top Movers (Source: Refinitiv (Thomson Reuters))