On 29th November 2021, the Australian market ended on an unfavourable note after significant selling was witnessed in the academic and educational services sector. On the same day, ASX 20 declined by 0.63% and ASX ALL ORDINARIES fell by 0.49%. Also, ASX 200 has witnessed a fall of 0.54% to 7,239.80.
Data Source: ASX, Table Source: Copyright © 2021 Kalkine Media
Performance of Indices:
ASX Midcap 50 Index closed at 9,334.00 points. This implies ~16.89% increase in the previous 1 year.
S&P/ASX 200 vs S&P/ASX Midcap 50 Index vs ASX Small Ordinaries Index – One Year Return

Source: REFINITIV
Gainers and Losers:
Recently, Bapcor Limited (ASX: BAP) stated that Darryl Abotomey, CEO as well as Managing Director, would be retiring on 28th February 2022.
Domino's Pizza Enterprises Ltd (ASX: DMP) rose by 4.086% to A$130.170 per share.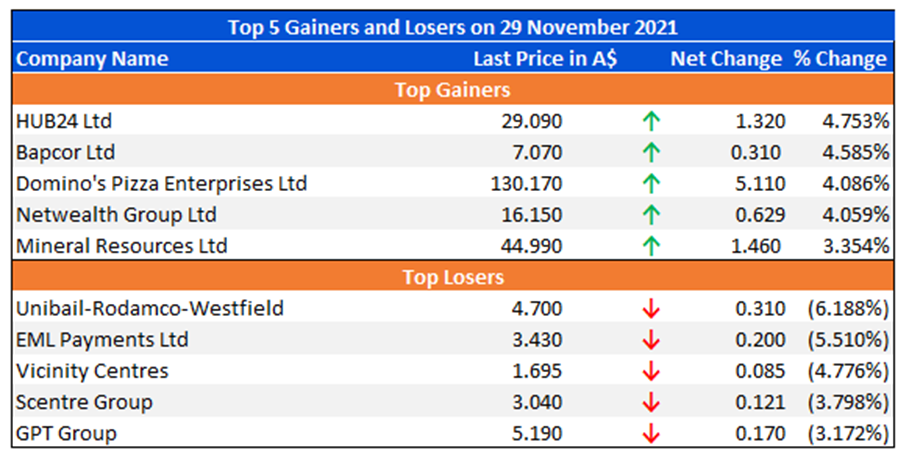 Source: REFINITIV
Movement on Wall Street:
On 26th November 2021, NASDAQ Composite fell 2.23% to 15,491.66. Notably, Dow Jones Industrials Average declined 2.53% to 34,899.34.
Note: The reference data in this article has been partly sourced from REFINITIV