On 23rd June 2021, the selling pressure on utilities and financials sectors impacted the performance of the broader market. Notably, ASX 20 declined by 0.81% to 4,099.20 and ASX 200 fell by 0.60%. Also, ASX 300 declined by 0.59%.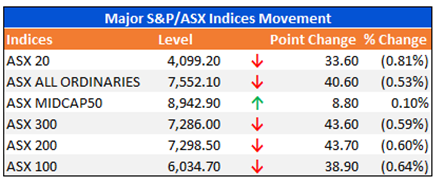 Data Source: ASX; Table Source: Copyright © 2021 Kalkine Media
ASX Midcap 50 Outperformed Rest of Indices:
ASX 200 Index settled at 7,298.50, reflecting a growth of ~22.57% in 1 year. Notably, ASX Midcap 50 Index and ASX Small Ordinaries Index managed to settle at 8,942.90 and 3,350.30 points, respectively.
S&P/ASX 200 vs S&P/ASX Midcap 50 Index vs ASX Small Ordinaries Index – One Year Return

Source: REFINITIV
Gainers and Losers:
In the release dated 22nd June 2021, Washington H. Soul Pattinson and Company Limited (ASX: SOL) announced that it has entered into the binding Scheme Implementation Agreement with Milton Corporation Limited. Therefore, SOL would be acquiring 100% of MLT's shares on issue which it does not own by way of the recommended Scheme of Arrangement.
Notably, Zip Co Ltd (ASX: Z1P) rose by 6.44% to A$8.600 per share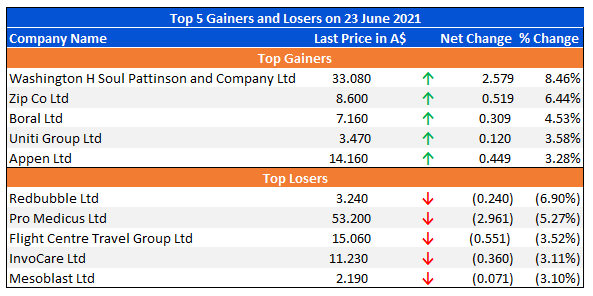 Data Source: ASX; Table Source: Copyright © 2021 Kalkine Media
Movement on Wall Street:
On 22nd June 2021, NASDAQ Composite witnessed an increase of 0.79% to 14,253.27. Notably, Dow Jones Industrials Average increased 0.20% to 33,945.58.
Note: The reference data in this article has been partly sourced from REFINITIV