On 19th February 2021, the equity market of Australia settled in red as ASX 200 fell by 1.34% to 6793.80. On the same day, consumer non-cyclicals sector grew by 0.26% while energy sector declined the most by 3.64%.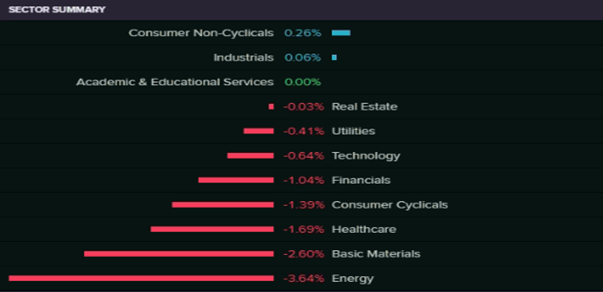 Sector Summary (Source: Refinitiv (Thomson Reuters))
Movements on Wall Street: On February 18, 2021, Dow Jones Industrial Average witnessed a fall of 0.37% to 31,493.34. Notably, NASDAQ Composite encountered a decline of 0.71% to 13,865.36.
Gainers and Losers: Cochlear Ltd. (ASX: COH) and Zip Co Ltd. (ASX: Z1P) soared by 8.40% and 5.56%, respectively. On the flip side, IPH Ltd. (ASX: IPH) slipped by 6.40%.

Gainers and Losers (Source: Refinitiv (Thomson Reuters))