On 7th October 2021, the Australian stock market ended in green as significant buying was witnessed in the financials as well as healthcare sectors. Notably, ASX 20 rose by 0.62% and ASX 300 witnessed an increase of 0.75%. On the same day, ASX 200 rose by 0.70% to 7,256.70.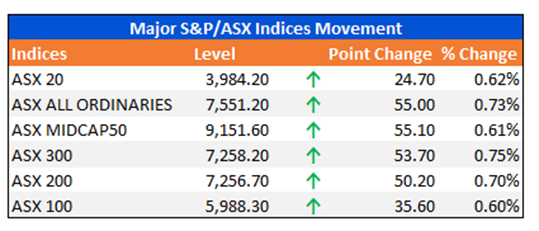 Data Source: ASX; Table Source: Copyright © 2021 Kalkine Media
Performance of Indices:
ASX Midcap 50 Index closed at 9,151.60 points. This implies the rise of ~22.97% in the previous 1 year.
S&P/ASX 200 vs S&P/ASX Midcap 50 Index vs ASX Small Ordinaries Index – One Year Return

Source: REFINITIV
Gainers and Losers:
Collins Foods Limited (ASX: CKF) made an announcement that one of its wholly-owned Dutch subsidiaries, Collins Foods Netherlands Management B.V. managed to sign an agreement with KFC Europe S.à r.l., which is the wholly-owned subsidiary of Yum! Brands Inc. This agreement is with regards to the appointment of Collins Foods as KFC's corporate franchisee in the Netherlands under the CFA (or corporate franchise agreement).
Super Retail Group Limited (ASX: SUL) rose by 7.745% to A$12.380 per share.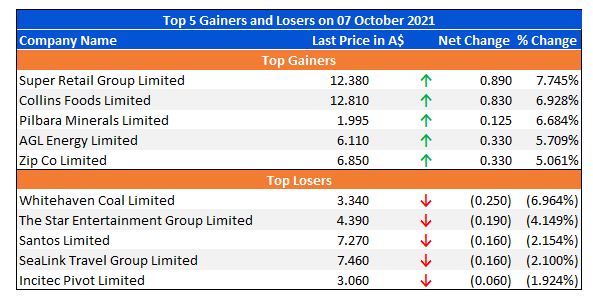 Data Source: ASX; Table Source: Copyright © 2021 Kalkine Media
Movement on Wall Street:
On 6th October 2021, NASDAQ Composite increased by 0.47% to 14,501.91. Also, Dow Jones Industrials Average rose by 0.30% to 34,416.99.
Note: The reference data in this article has been partly sourced from REFINITIV