On 18th October 2021, the Australian market managed to end in green. Notably, ASX 20 and ASX 300 increased by 0.47% and 0.24%, respectively. Also, ASX 200 rose by 0.26% and ASX 100 witnessed a rise of 0.28% to 6,085.90. However, on the same day, ASX MIDCAP50 witnessed a decline of 0.07% to 9,326.90.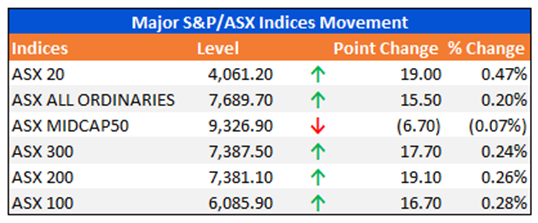 Data Source: ASX; Table Source: Copyright © 2021 Kalkine Media
Performance of Indices:
ASX Midcap 50 Index closed at 9,326.90 points. This implies ~19.03% increase in the past 1 year.
S&P/ASX 200 vs S&P/ASX Midcap 50 Index vs ASX Small Ordinaries Index – One Year Return

Source: REFINITIV
Gainers and Losers:
The Directors of Nickel Mines Limited (ASX: NIC) announced that the company's 80% owned subsidiary, PT Hengjaya Mineralindo, which is the operator of the Hengjaya Mine, managed to sign the binding agreement with PT Huayue Nickel Cobalt with respect to the supply of limonite ore to the HNC High Pressure Acid Leach (HPAL) project, that would start commissioning within the Indonesia Morowali Industrial Park (or IMIP).
Orocobre Ltd. (ASX: ORE) rose by 4.85% to A$9.080 per share.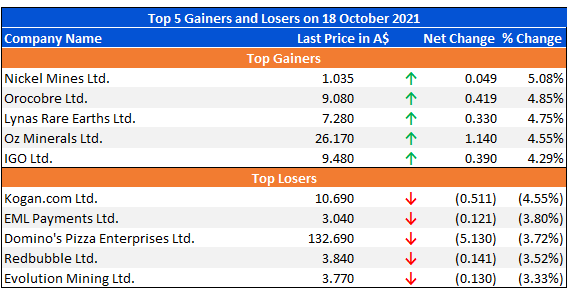 Data Source: ASX; Table Source: Copyright © 2021 Kalkine Media
Movement on Wall Street:
On 15th October 2021, NASDAQ Composite rose 0.50% to 14,897.34. Notably, Dow Jones Industrials Average witnessed a rise of 1.09% to 35,294.76.
Note: The reference data in this article has been partly sourced from REFINITIV