On 24th June 2021, broader Australian markets were impacted by the significant selling pressure which was witnessed on consumer non-cyclicals sector. Notably, ASX 20 declined by 0.26% to 4,088.50 and ASX 200 fell by 0.32% to 7,275.30. Also, ASX 300 witnessed a fall of 0.27%.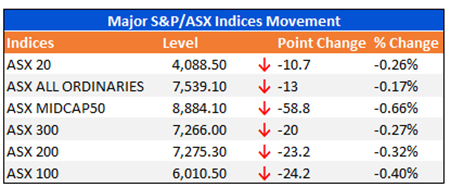 Data Source: ASX; Table Source: Copyright © 2021 Kalkine Media
ASX Midcap 50 Outperformed Rest of Indices:
ASX 200 Index settled at 7,275.30, reflecting a growth of ~21.95% over the time span of 1 year. Notably, ASX Midcap 50 Index and ASX Small Ordinaries Index settled at 8,884.10 and 3,371.20 points, respectively.
S&P/ASX 200 vs S&P/ASX Midcap 50 Index vs ASX Small Ordinaries Index – One Year Return

Source: REFINITIV
Gainers and Losers:
Redbubble Limited (ASX: RBL) announced that its US subsidiary, Redbubble Inc, received the jury verdict with respect to an ongoing piece of the litigation started by the US fashion retailer Brandy Melville in California, relating to the alleged intellectual property infringement. As per the release, the jury verdict included an award for the amount of US$520,000. It was also mentioned that the jury's decision was limited to the facts of the Brandy Melville case.
Notably, Pro Medicus Ltd (ASX: PME) rose by 6.90% to $56.870.
Data Source: ASX; Table Source: Copyright © 2021 Kalkine Media
Movement on Wall Street:
On 23rd June 2021, NASDAQ Composite increased 0.13% to 14,271.73. Notably, Dow Jones Industrials Average declined 0.21%.
Note: The reference data in this article has been partly sourced from REFINITIV