On 26th May 2021, Australian markets ended in red after Wall Street closed the session on an unfavourable note. It looks like the selling pressure witnessed in academic and educational services sector and basic materials sector impacted the broader market. ASX 20 fell by 0.55% to 4,020.60 and ASX 300 declined by 0.28%. However, ASX 200 fell by 0.32%.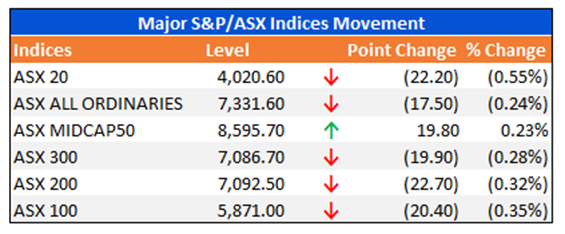 Data Source: ASX; Table Source: Copyright © 2021 Kalkine Media
ASX Midcap 50 Outperformed Rest of Indices:
ASX 200 Index managed to close at 7,092.50, reflecting a growth of ~22.71% in 1 year. Also, ASX Midcap 50 Index and ASX Small Ordinaries Index settled at the levels of 8,595.70 and 3,253.40 points, respectively.
S&P/ASX 200 vs S&P/ASX Midcap 50 Index vs ASX Small Ordinaries Index – One Year Return
Data Source: REFINITIV
Gainers and Losers:
ALS Limited (ASX: ALQ) released its FY 2021 results and it witnessed robust recovery in the second half. Its revenue from continuing operations stood at $1,761.4 Mn, reflecting a 5.0% decline (-0.1% at constant currency) because of the impact of coronavirus pandemic in H1.
Fletcher Building Limited (ASX: FBU) made an announcement that it would be undertaking the capital return to shareholders of up to NZ$300 Mn via on-market share buyback. Notably, the buyback would be commencing in the month of June 2021. Its FY 2021 EBIT before significant items is anticipated to be at the top end of the earlier guidance, between $650 Mn-$665 Mn.
Movements on Wall Street:
On 25th May 2021, NASDAQ Composite declined 0.03% to 13,657.17. Notably, Dow Jones Industrial Average fell 0.24% to 34,312.46.
Note: The reference data in this article has been partly sourced from REFINITIV