On April 22, 2021, ASX200 closed in green, reflecting a rise of 57.90 points or +0.83% to 7,055.40. As can be seen from the below table, ASX 300 increased by 56.1 points or 0.80% to 7,048.20 and ASX 100 increased by 48.8 points to 5,819.80. It can be said that the Australian markets tracked the performance of Wall Street indices.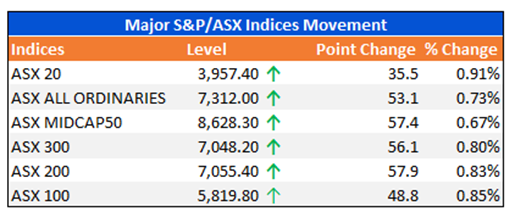 Data Source: ASX; Table Source: Kalkine Media Pty Ltd.
Gainers and Losers:
On April 22, 2021, Megaport Limited (ASX: MP1) reported quarterly key performance indicators for the period ended 31st March 2021, provided the global market update. In Q3 FY 2021, MP1 witnessed continued growth in monthly recurring revenue (or MRR), as there was a rise of 8% QoQ to $6.8 Mn in March 2021. Notably, total revenue for the quarter amounted to $19.6 Mn, up 5 percent as compared to Q2 FY 2021.
AMP Limited (ASX: AMP) released Q1 FY 2021 AUM and update on cashflows. Notably, AMP Bank total loan book witnessed an increase of A$0.2 Bn to A$20.8 Bn, driven by the growth in owner-occupied loans in the highly competitive market.
Data Source: ASX; Table Source: Kalkine Media Pty Ltd.
Movements on Wall Street:
On April 21, 2021, NASDAQ Composite increased 1.19% to 13,950.22. Notably, Dow Jones Industrial Average encountered a rise of 0.93% to 34,137.31.
Also Read: ASX Indices Drifting Down From High Levels