On 13 January 2022, the equity market of Australia ended in green. On the same day, ASX Midcap50 rose by 0.46% and ASX 200 was up by 0.48%. ASX All Ordinaries moved up by 0.45% to 7,797.50.

Data Source: ASX, Table Source: Copyright © 2021 Kalkine Media
Performance of Indices:
ASX Midcap 50 Index closed at 9,770.30 points. This implies ~18.15% increase in the previous 1 year.
S&P/ASX 200 vs S&P/ASX Midcap 50 Index vs ASX Small Ordinaries Index – One Year Return
Source: REFINITIV
Gainers and Losers:
Crown Resorts Limited (ASX: CWN), recently notified that it has received a revised non-binding proposal from Blackstone for acquisition of 100% shares through a scheme of arrangement at a price of $13.10 cash per share as compared to the previous offer price of $12.50 cash per share.
Nickel Mines Limited (ASX: NIC) rose by 5.161% to $1.630.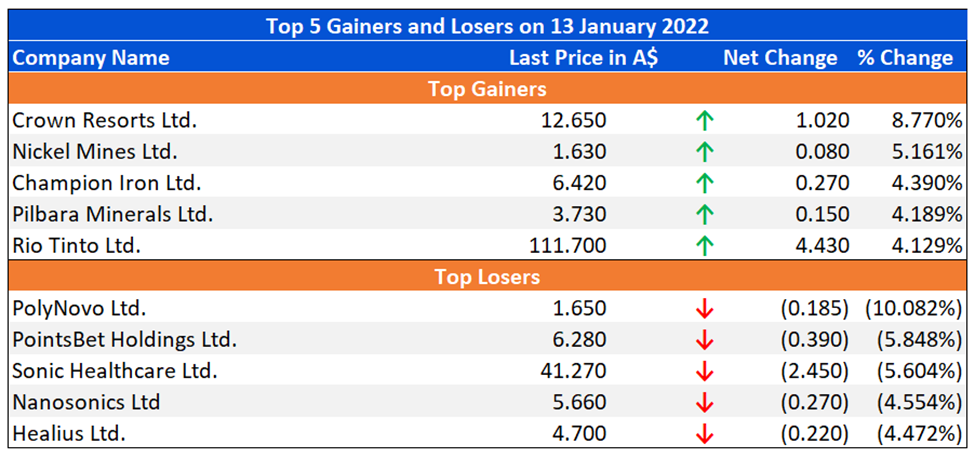 Source: REFINITIV
Movement on Wall Street:
On 12 January 2022, NASDAQ Composite rose by 0.23% to 15,188.39. Notably, Dow Jones Industrials Average moved up by 0.11% to 36,290.32.
Note: The reference data in this article has been partly sourced from REFINITIV