On 5th July 2021, most of the ASX indices ended in green amid rise in Wall Street. Notably, Industrials and Energy sectors supported the broader market. Notably, ASX 20 fell by 0.19% to 4,107.10 while ASX 200 rose by 0.09% to 7,315.00. Also, ASX MIDCAP50 fell by 0.33%.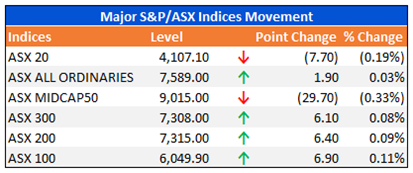 Data Source: ASX; Table Source: Copyright © 2021 Kalkine Media
ASX Midcap 50 Outperformed Rest of Indices:
ASX 200 Index settled at 7,315.00, showing a growth of ~21.62% in 1 year. Also, ASX Midcap 50 Index and ASX Small Ordinaries Index settled at 9,015.00 and 3,371.70 points, respectively.
S&P/ASX 200 vs S&P/ASX Midcap 50 Index vs ASX Small Ordinaries Index – One Year Return
Source: REFINITIV
Gainers and Losers:
Sydney Airport (ASX: SYD) announced that it has received unsolicited, indicative, conditional as well as non-binding proposal from the consortium of the infrastructure investors for the acquisition, by way of the scheme of arrangement as well as trust scheme, 100% of the stapled securities in Sydney Airport involving indicative price of A$8.25 cash per stapled security.
However, CLINUVEL PHARMACEUTICALS LIMITED (ASX: CUV) fell by 5.21%.
Data Source: ASX; Table Source: Copyright © 2021 Kalkine Media
Movement on Wall Street:
On 2nd July 2021, NASDAQ Composite increased 0.81% to 14,639.33. Notably, Dow Jones Industrials Average rose 0.44% to 34,786.35.
Note: The reference data in this article has been partly sourced from REFINITIV