Copyright © 2021 Kalkine Media Pty Ltd.
On April 14, 2021, ASX 200 ended the session in green as there was a rise of 46.20 points or +0.66% to 7023.10. With this, it managed to set a new 100-day high. As can be seen from the below table, ASX 300 rose by 0.69% to 7015.70 and ASX 200 increased by 0.66% to 7023.10. However, ASX 100 increased by 0.64% to 5,788.80.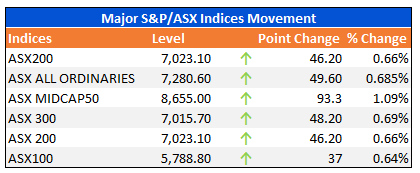 Source: ASX
Gainers and Losers
On April 14, 2021, Resolute Mining Limited (ASX: RSG) advised that the Ghanaian Honourable Minister for Lands and Natural Resources, Hon. Samuel A Jinapor, MP (the Minister), informed the company that the mining lease for the Bibiani Gold Mine has been restored.
On April 14, 2021, Pilbara Minerals Limited (ASX: PLS) informed the market participants that its March 2021 quarterly activities report would be releasing on 21st April 2021.
On April 12, 2021, Webjet Limited (ASX: WEB) has announced the successful settlement of the issue of AU$250 Mn convertible notes due 2026.

Source: ASX
Movements on Wall Street
On April 13, 2021, Dow Jones Industrial Average witnessed a fall of 0.20% to 33,677.27. However, NASDAQ Composite encountered an increase of 1.05% to 13,996.10.