On 8th January 2021, ASX 200 ended in green with a rise of 0.68% to 6757.90. Industrials sector rose by 1.83% and healthcare sector increased by 1.73%.

Sector Summary (Source: Refinitiv (Thomson Reuters))
Movements on Wall Street: On January 7, 2021, Dow Jones Industrial Average increased 0.68% to 31,041.13. Notably, NASDAQ Composite rose 2.56% to 13,067.48.
Gainers and Losers: BINGO Industries Limited (ASX: BIN) and Afterpay Limited (ASX: APT) moved up by 8.73% and 6.57%, respectively. On the other hand, IGO Limited (ASX: IGO) fell by 4.23%.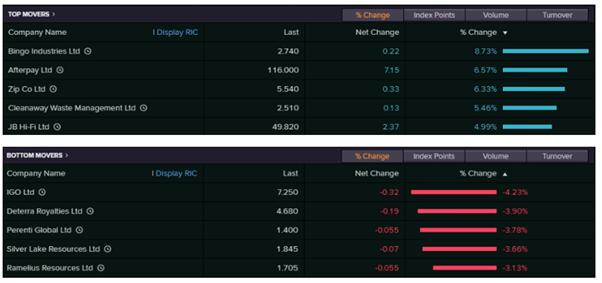 Gainers and Losers (Source: Refinitiv (Thomson Reuters))