Costa Group Holdings Limited (ASX:CGC) has released its CY2020 results and witnessed a 11.2% growth in its revenue to A$1.164 billion. The Company was able to recover from the drought and managed through the COVID-19 pandemic and did not experience any major disruption to its crop yield and supply.
EBITDA improved by 47.2% to A$144.8 million as compared to CY2019.
NPAT grew by 108.4% to A$59.4 million on CY2019.
Statutory NPAT for CY2020 stood at A$60.8 million.
The net debt of the Company is A$143.9 million.
Favourable market conditions along with positive demand & pricing across its product categories drove the results during the period. Also, sustained Australian category momentum in 2H CY2020 resulted in improved earnings.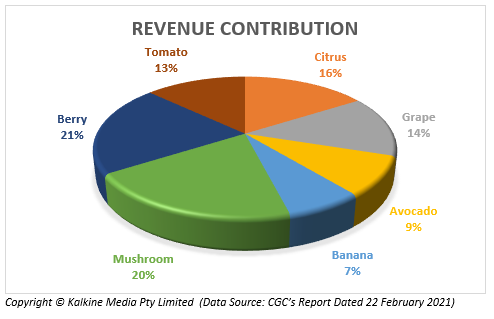 In CY2021, CGC continued to experience strong demand and pricing across produce categories. Therefore, CGC would focus on its competitive advantages in yield, geographical spread, quality, and production cost.
Further, its strong balance sheet would help CGC to invest in quality bolt-on prospects, global growth, along with domestic innovation projects to propel development.
DETAILED DISCUSSION AT: Here's why Costa Group (ASX:CGC) is the top gainer on the ASX200 today