The alliance of leading oil producer's globally, OPEC, on Thursday said that a major recovery in oil demand would be witnessed during the second half of 2021.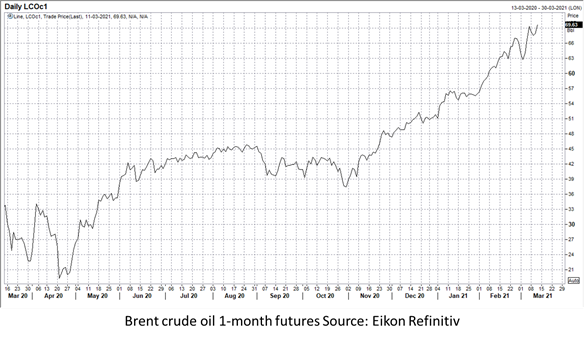 On 12 March 2021, Brent Crude Oil futures traded at US$69.63 a barrel at 11:40 AM AEDT, recovering over ~2.54% from the previous close.
In its monthly report, OPEC stated that the crude oil demand would rise by 5.89 million barrels per day in 2021. The new estimate records a 6.5% increase in the demand anticipated in the last month's publication.
OPEC foresees the oil demand to grow to 96.3 million barrels with major consumption recovery during the second half.
The new estimates support OPEC's decision earlier this month to extend the supply cuts in the month of April.
Saudi Arabia has also extended the voluntary 1 million bpd production cut, which was earlier came into effect originally from 1 February 2021 for a 2-month period.