A running race in London was hit by delays after swathes of runners did not receive their bib numbers.
Around 15,000 people took part in the Vitality London 10km race on closed roads around the capital on Sunday.
However, large queues of participants had to wait for replacement numbers in Green Park because they did not receive their running pack in the post.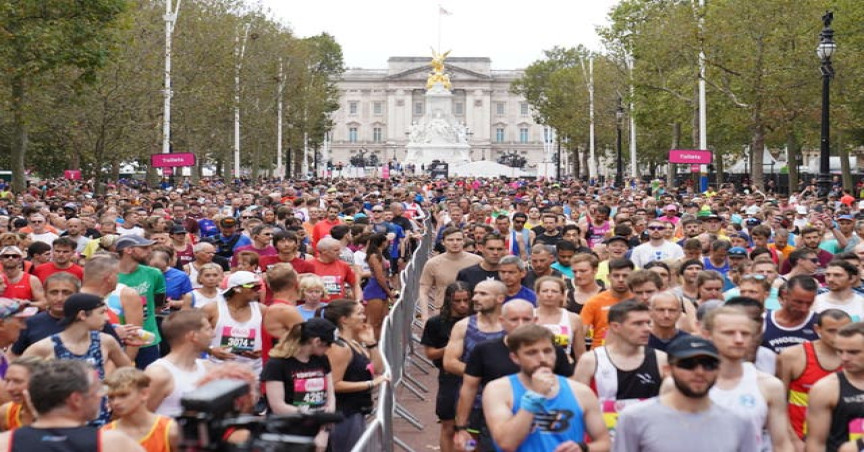 Some runners did not receive bib numbers (Stefan Rousseau/PA)
The first wave of runners was due to set off at 10am – with the rest heading off in staggered starts, but organisers had to hold them back.
A London Marathon Events spokesperson told the PA news agency: "We're aware a number of participants didn't receive their running pack in the post prior to the event.
"So our team on the ground worked very hard to issue replacement numbers as quickly as we could.
"Everyone was able to cross the start line by 11.30am and we're looking into what happened and we'll update those affected when we know."
Anthony Bailly, 33, an IT project manager from Haringey, north London, said he had to wait for hours.
Earlier on Sunday, he said: "Not much is being told to us, other than an ask to split into various numbers of queues, but it's pretty much a free-for-all now.
"They have been calling people forward based on their start time, but people are reluctant to move to the priority queue because it's starting to get longer than the queue we're already in."
The route started on The Mall and went past landmarks including Admiralty Arch, St Paul's Cathedral, the Bank of England, Somerset House, the Houses of Parliament and Westminster Abbey, before finishing in front of Buckingham Palace.
Notable participants included British-Iranian dual national Anoosheh Ashoori and Richard Ratcliffe, the husband of Nazanin Zaghari-Ratcliffe, as well as Dame Barbara Windsor's widower Scott Mitchell and EastEnders actor Jake Wood.
Anoosheh Ashoori and Richard Ratcliffe (right) took part (Stefan Rousseau/PA)
Mr Ashoori said: "I promise you, even if you're not a runner, if you start doing 10 minutes a day, you will soon experience the positive effects of running on your life."
Mr Ratcliffe added: "Until today, the longest I can recall running was a 5K at school, so today was quite daunting, but Anoosheh paced me round and we ticked off the kilometres, one step at a time."