Scotland will be a key battleground in the next general election, Tory chairman Greg Hands said, adding that votes for the party north of the border could keep Sir Keir Starmer out of Downing Street.
With the SNP "weakened" amid the turmoil of the police investigation into its finance, Mr Hands said there is an opportunity for the Conservatives to gain seats in the next UK election, which is likely to be held next year.
He said the SNP has "a dedication to incompetence and mismanagement of public services and finances that even the Labour Party would envy".
Mr Hands predicted that the SNP's time in power at Holyrood is "going to end in tears", and that means his party has "the opportunity not just to hold on to what we have but to go forward and make gains right the way across Scotland".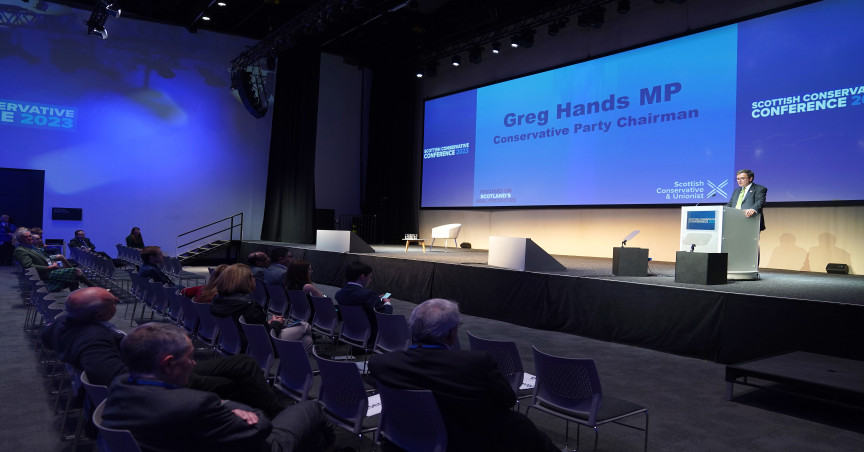 Conservative Party chairman Greg Hands addressed the Scottish Tory conference in Glasgow on Friday (Andrew Milligan/PA)
He told the Scottish Conservative conference in Glasgow: "Make no mistake, Scotland is going to be a key battleground of ours in the next UK election.
"It could be that Scotland is the deciding factor in that election, whether we have a full term of Rishi Sunak or something else under Sir Keir Starmer."
However he warned Tory members that with a number of seats "on a knife-edge", the party will "need every vote we can muster".
First Minister and SNP leader Humza Yousaf has already said another independence referendum would be his price for supporting Labour at Westminster, and Mr Hands said the Tories therefore "need to show a vote for the SNP is a vote for more chaos, not just in Scotland but potentially at the UK level as well".
He said: "We need to make our case clearly and persuade voters it is our party, the Scottish Conservatives, that is the only party that can beat the SNP in those seats."
In 2017, the Scottish Tories returned 13 MPs to Westminster, helping keep the Conservatives in power.
Mr Hands said that meant Scottish Tories had denied then Labour leader Jeremy Corbyn "and his fellow socialist extremists from forming a Frankenstein's alliance with Nicola Sturgeon at a Westminster level".
However in 2019 the party lost seats, winning only six constituencies north of the border.
Mr Hands said: "With the SNP now weakened, their nationalist agenda lying in tatters and their whole attack having been exposed as almost unbelievably shallow, now is our moment."
He told activists they should "relish the opportunity this affords the Conservative Party here in Scotland".
He continued: "It is a travesty the way this SNP Government has failed Scotland.
"But we in the Conservative Party have a vision of hope and we have a vision to see Scotland and the whole of our great United Kingdom prosper with Rishi Sunak's five priorities – to halve inflation, to grow the economy, create better paid jobs across the UK, to reduce our national debt, to cut the NHS waiting, and stopping the boats run by criminal gangs of human traffickers.
"We have a dedication to see our union reinforced and the bonds between all parts of the United Kingdom strengthened."