The Royal College of Nursing (RCN) is working with health leaders to provide some staff during its bank holiday strike, as hospitals including Great Ormond Street issued warnings over patient safety.
The RCN, which is holding a strike from 8pm on Sunday until 11.59pm on Monday evening, previously said it will not agree to derogations – broad areas of care where unions agree to provide staffing during industrial action.
This means nurses in intensive care, A&E and cancer care will be on strike.
However, in a new development, it has agreed with NHS England that "safety critical mitigations may be required for a period to maintain safe patient care".
Royal College of Nursing general secretary Pat Cullen joins members on the picket line outside the Royal United Hospital in Bath (Ben Birchall/PA)
It comes as Great Ormond Street Hospital in London warned on Friday that it had "serious concerns over safely staffing the hospital" during the strike.
The world-renowned children's hospital said it has declared a business continuity incident, adding that wards will not be able to be staffed to usual levels.
Some children may need to be sent home in order for care for those who remain to be safe, it said on its website.
The RCN said some "safety critical mitigations" were being agreed in advance with individual NHS organisations, and the union plans to post these on the RCN website by region.
Information from the RCN said: "Once the RCN has approved a safety critical mitigation, a local trust will contact nursing staff and seek their return to work.
"The RCN will also post to its website that the safety critical mitigation has been agreed so that it is easy for members to verify it.
"Where a mitigation has been confirmed, members should return to work to protect patient safety."
An RCN spokeswoman said: "There are no entire exemptions seen across the country.
"But we are taking reasonable and clinically urgent mitigations to protect life and limb as everybody would expect."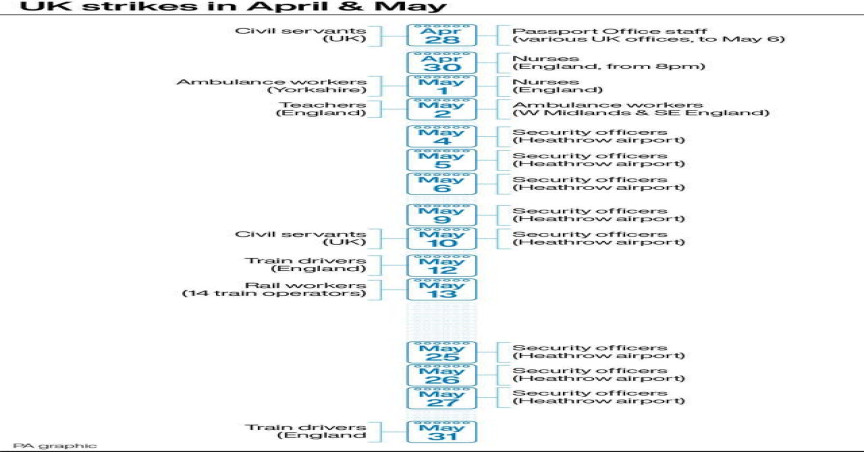 (PA Graphics)
The spokeswoman added: "It is painfully clear the NHS cannot cope without its nursing staff. If the Government treated them fairly, this sorry situation would be finished.
"Nurses are intensifying the action because the strike so far has not produced a good enough offer from ministers – too valuable to strike but not valued enough to pay fairly.
"Nursing staff will always make sure life and limb care is protected and the NHS acknowledges the RCN is agreeing mitigations on request."
In a statement, Matthew Taylor, chief executive of the NHS Confederation, told the PA news agency: "Health leaders are working hard to finalise their plans ahead of the most dramatic strikes the RCN has staged so far, with no national exemptions in place.
"Although the strike will be a day shorter than originally planned, disruption is still expected and so, we hope that RCN representatives at local levels will allow their members to cross the picket line in the event of emergencies where life is at immediate risk."
He said health leaders "will wait with bated breath" to understand the collective view of the NHS Staff Council – made up of health unions, employers and Government representatives – which is meeting on Tuesday to discuss the Government's 5% pay offer.
"With waiting lists and feelings of staff burnout being so high, they are keen for the disruption caused by industrial action to be brought to an end with a funded pay deal that satisfies the majority, and for the Government to significantly increase its support for the NHS with a workforce strategy that will help tackle the 124,000 vacancies across the service," Mr Taylor added.
As the NHS prepares to cope with the strike, NHS England is urging the public to use the health service wisely.
It said emergency and urgent care would remain the priority, with people asked to use other services such as pharmacies and 111 where possible.
Nurses make up a quarter of NHS staff and are the biggest proportion of the health service workforce.
NHS England warned that staffing levels for some areas of the country will be "exceptionally low, lower than on previous strike days".
The NHS's deputy chief nurse, Charlotte McArdle, said "there is likely to be significant impact upon local services over the bank holiday weekend".
She added: "We are now entering the sixth month of industrial action across the NHS and this has a cumulative impact on staff who have gone above and beyond to maintain safe patient services during an incredibly challenging period.
"We acknowledge that every appointment postponed has an impact on the lives of individuals and their families and creates further pressure on services and on an already tired workforce.
"If you need non-urgent care I would encourage people – as always – to use services such as pharmacies and 111 online and if you have a life-threatening emergency, please seek help in the usual way by dialling 999.
"Importantly, if you haven't been contacted to say otherwise, please still attend your appointments as planned."
NHS England said the number of rescheduled appointments due to strike action is set to hit half a million next week.
A High Court judge ruled on Thursday it would be unlawful for the RCN strike to continue into Tuesday as originally planned, meaning it will now end just before midnight on Monday.