The King has watched an Australian charity kick off the London leg of a torch relay in celebration of its centenary.
Charles chatted with torchbearers, participants and families at the event to mark 100 years of Legacy in the quadrangle at Buckingham Palace on Friday.
Founded in 1923 by a small group of First World War veterans, Legacy supports thousands of veterans, spouses and children of Australian Defence Force (ADF) members who have been affected by the death or serious injury of a loved one.
The King at the start of the Australian Legacy Torch Relay at Buckingham Palace (Gareth Fuller/PA)
Charles received a torch as a gift and watched as torchbearers passed on the flame at Buckingham Palace on Friday.
Torchbearer and mother-of-four Angela Brient, 40, met the King, and on finding out how many children she had, he replied: "My goodness. How do you manage?"
Widow Ms Brient said Legacy has supported her and her children since her husband died six years ago.
"He went to the Middle East where he suffered a severe injury to his neck. He came home, and even though he had some surgery his mental health declined from his injuries, and he ended up taking his own life," she said.
Ms Brient, who is from Perth in Australia but lives in Glasgow, said it was "an honour" to be asked to represent Legacy and said she could not believe she was invited to the Palace.
"It was such a surprise to us all. And we're so excited," she said.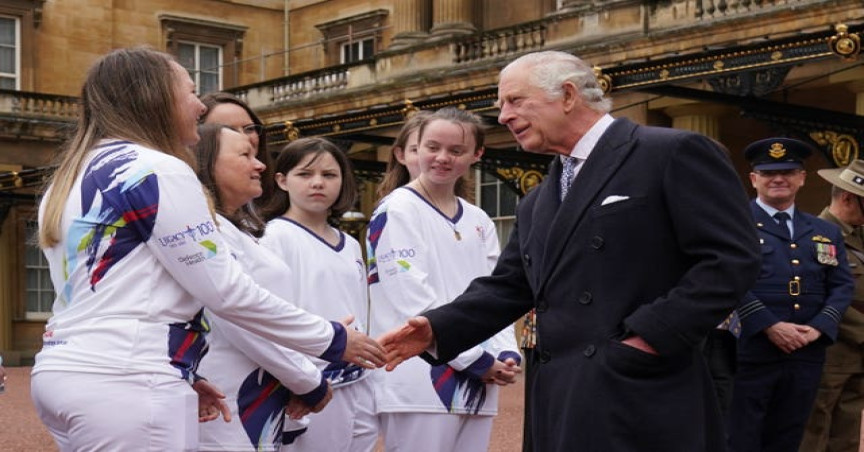 The King meets torchbearers at the start of the Australian Legacy Torch Relay at Buckingham Palace (Gareth Fuller/PA)
Speaking about the prospect of meeting the King, Ms Brient said: "It's an honour I was never expecting to be given in my life, so I'm excited."
Eric Easterbrook, chairman of Legacy Australia, said it was "exceptionally exciting and wonderful" to be at the Palace, and "incredible" to be there so close to the date of the coronation.
There are 44 Legacy clubs across Australia and one club in London.
The Legacy Centenary Torch Relay is a six-month satellite relay event commemorating the charity's 100 years of service and acknowledging veterans' families.
The torch will travel over 50,000 kilometres through 100 locations, carried by approximately 1,500 torchbearers who have a connection to Legacy or the defence community.
The relay began at a ceremony at Pozieres France on April 23.
Whilst in France, the torch featured at Anzac Day events before heading to Ypres, Belgium for the daily Menin Gate Last Post Ceremony.
A relay will take place through the streets of London before the torch will arrive in Albany, Western Australia, and stop at all 44 Legacy clubs across the country, concluding in Melbourne in October.