The Government's refusal to return to the negotiating table over pay shows "a lack of concern" for children and "contempt" for teachers and school leaders, a union boss will say.
Paul Whiteman, general secretary of the National Association of Head Teachers (NAHT), will accuse the Government of "selling young people down the river" over a lack of funding in schools.
In a speech to school leaders on Friday, Mr Whiteman will say "underpaid" staff working in "underfunded" schools under a "punitive" inspection regime will not solve the recruitment and retention crisis, adding it is "damaging" to children.
At the union's annual conference in Telford, the NAHT general secretary will say: "The Government must now come back to the table. Simply taking their bat and ball home because our members have said no is not the action of a responsible government.
"It is a demonstration of contempt for the profession and a lack of concern for children."
The national executive committee of the NAHT has decided to reballot its members in England during the summer term on strike action, with possible walkouts in the autumn if the ballot is successful.
Delegates at the NAHT's conference are due to endorse the union's decision to reballot for strike action over pay, funding, workload and wellbeing.
In January, a formal ballot of NAHT members failed to meet the mandatory 50% turnout threshold required for strike action.
In his speech, Mr Whiteman will say he has "no doubt" the union will secure a mandate for industrial action in England "in due course".
It comes as teacher members of the National Education Union (NEU) staged fresh strikes in schools and sixth form colleges across England on Thursday – with another national walkout planned for Tuesday.
The Government offered teachers a £1,000 one-off payment for the current school year (2022/23) and an average 4.5% pay rise for staff next year following intensive talks with the education unions.
Four education unions – the NAHT, the NEU, the NASUWT teaching union and the Association of School and College Leaders (ASCL) – rejected the offer.
The decision on teachers' pay in England for next year has been passed to the independent pay review body, the School Teachers' Review Body (STRB).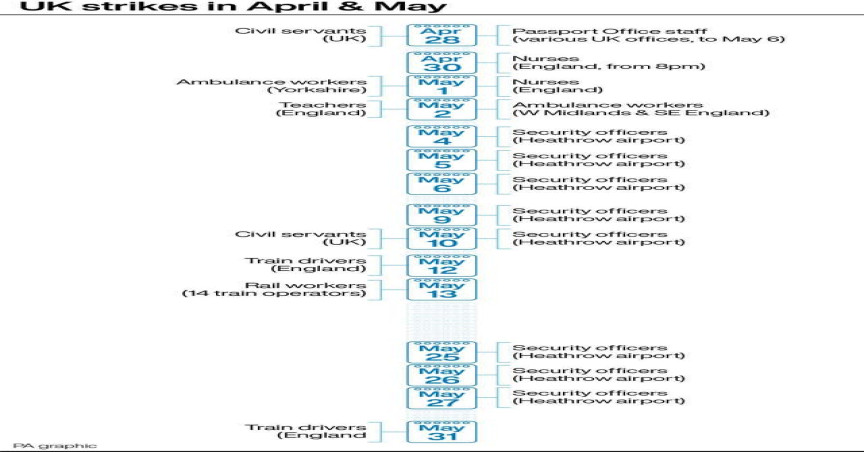 (PA Graphics)
Mr Whiteman will tell hundreds of school leaders on Friday: "The spectacle of underfunded schools, along with overworked and underpaid staff, working within the context of a punitive inspection regime, is, unsurprisingly, not the solution to our recruitment and retention crisis.
"It's damaging to our profession, it's damaging to the children you teach and it's entirely unsustainable."
He will add: "A slightly more palatable bottom line in exchange for selling young people down the river and sending a message to the rest of the world that in this country, we just don't think education is that important."
During his speech, Mr Whiteman will renew calls for Ofsted to be reformed – and he will say the "pernicious" one-word grading system should end.
It comes after the death of Ruth Perry, headteacher at Caversham Primary School in Reading, Berkshire, who took her own life in January while awaiting an Ofsted report which downgraded her school from the highest rating to the lowest possible.
Speaking at the Telford International Centre, Mr Whiteman will say: "In the immediate aftermath of Ruth's passing, NAHT experienced a significant increase in calls to its advice line from similarly distressed members.
"One of the saddest things about this fact is that I doubt it has surprised anyone in this room whatsoever."
He will add: "Ruth was one of us. And she could have been any of us. There are no two ways about it, this has to be a watershed moment for Ofsted. Change has to come and come quickly.
"School leaders have never shied away from accountability and scrutiny. But we do ask for a fair, humane, proportionate inspection system that seeks to support schools, not punish them.
"Our decision to take the first steps towards legal action and issue a pre-action protocol letter was not taken lightly, but it was absolutely necessary. I can tell you that the NAHT lawyers are putting the finishing touches to a legal challenge now."
Professor Julia Waters, Ms Perry's sister, is due to speak at the NAHT's annual conference on Saturday.