A former BBC local radio presenter who was jailed for stalking broadcasters including Jeremy Vine has appeared in court again as he was banned from contacting two more people.
Alex Belfield, 43, was jailed for five-and-a-half years in September 2022 for stalking Channel 5 and BBC Radio 2 presenter Mr Vine and BBC presenters Bernie Keith, Stephanie Hirst, Liz Green, Helen Thomas and Rozina Breen after he was found guilty of pursuing a "campaign of abuse" against them.
Belfield appeared at Nottingham Magistrates' Court via video link from HMP Stocken in Rutland, East Midlands, on Thursday as District Judge Sunil Khanna made a stalking protection order preventing him from contacting a man he had sent a tweet to and his wife.
The order prevents Belfield, previously of Mapperley in Nottingham, from contacting or attempting to contact Greg Scott or his wife Karen Scott, or publish or attempt to publish any material relating to them.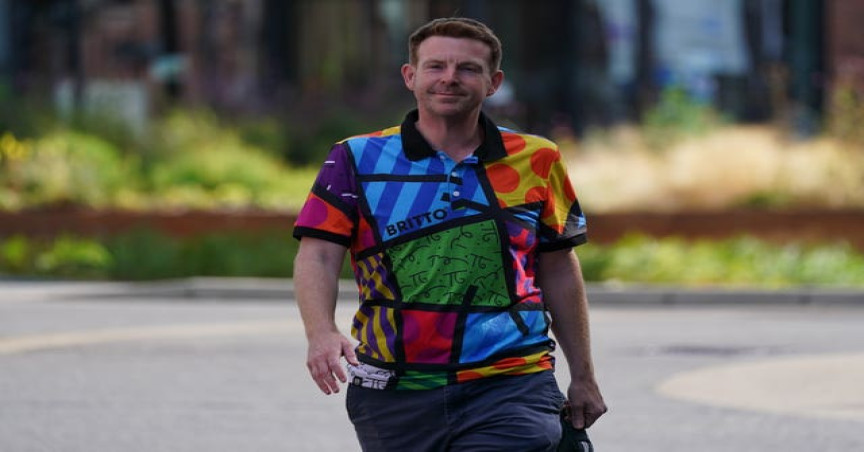 Ex-BBC presenter Alex Belfield arriving at Nottingham Crown Court in August 2022 (Jacob King/PA)
Neither Mr or Mrs Scott were involved in last year's trial, in which TV and radio host Mr Vine labelled Belfield "the Jimmy Savile of trolling" as the court heard he repeatedly posted or sent abusive messages, videos and emails.
How Belfield first came into contact with the pair was not mentioned in court.
YouTuber Belfield, who was wearing a tracksuit top and a green T-shirt and sat at a desk making notes during the brief hearing, addressed the court to say: "I have never met, gone near or ever contacted Karen Scott or done anything other than replying to Greg Scott. I just want to make that clear."
District Judge Khanna said he was satisfied there was a need for the order to protect from stalking and warned Belfield he could face further jail time if he breached it.
He also made an order requiring Belfield to pay costs after barrister Christopher Pembridge said the case, which has been ongoing for three years, has cost police £20,000.
Mr Pembridge said it would be "unjust" for Belfield to pay the full costs, but asked the judge to consider an appropriate amount.
David Aubrey KC, acting for Belfield, argued that he would not be able to shoulder substantial costs because his ability to work after his release from prison would be limited and he could face a further civil case.
He said: "(Belfield) is in prison and on the question of his earning capacity when he comes out of prison, there could be restrictions on what work he could do. It is very much up in the air and will depend on what happens upon his release eventually."
District Judge Khanna ordered Belfield to pay £403.