The home currency is facing some pressure against a slight recovery witnessed in the United States dollar with AUD/USD facing strong resistance around USD 0.780.
The United States Federal Reserve (U.S. Fed) cited that the U.S. economic activity and employment had moderated in recent months during its meet yesterday. The comments from the central bank seem to have uplifted market sentiments around the U.S. dollar, putting cross pairs in some trouble.
However, while the United States Federal Reserve choose to keep the interest rate and monthly bond purchase unchanged, an optimistic opinion after a while uplifted the dollar index.
In response, the recovery in the home currency, which has been slowed for a while faced further pressure, prompting it to break a range; however, prices recovered and once again moved backed to the previous range.
Also Read: Three currency pairs gaining ground, what are chartists looking at in 2021?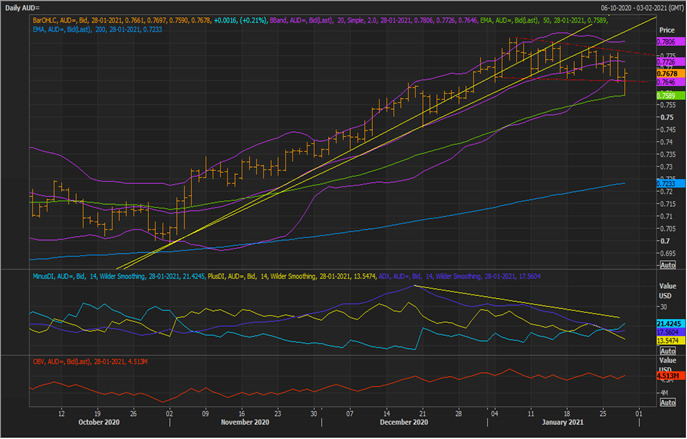 AUD/USD (AUD=) Price Daily Chart (Image Source: Refinitiv Eikon Thomson Reuters)
On following the daily chart, it could be seen that AUD broke down of the downward sloping trading range (marked with red lines), leading to a volatility breakout towards the downside with prices slipping below the -2 Standard Deviation of the 20-day simple Bollinger Band®.
However, the market reacted sharply over the volatility break with the currency rebounding from the 50-day exponential moving average.
Over the long-term, the currency has given a break below the support zone (marked with yellow lines) and is currently facing strong pressure around USD 0.780. At present, USD 0.780 (the point where the long-term upward sloping trendline is crossing the upper range of the slightly downward sloping range) is acting as primary resistance.
A break and price action above the same could seed bullish sentiments ahead.
On the flip side, the bottom line of the downward-sloping range, which is now overlapping with the -2 Standard Deviation of the Bollinger Band® should act as immediate resistance. Though there has been a break in the support, the bulls remained quick to react and supported the currency; however, consecutive breaks followed by some price action below the same could be an early indicator or a trend reversal.
On applying and analysing some technical indicators, it could be seen that ADX is showing a sharp divergence against the recent price action, which could be an early signal that the uptrend is exhausting. Meanwhile, the minus DI is moving above the plus DI, suggesting that volatility is now more towards the downside.
Also, the recent upsurge in prices has not been very well followed by On Balance Volume (OBV) with the indicator showing tiredness ahead of the recent price consolidation and downward movement, reflecting that the recent surge in AUD prices has not been well-supported by large volumes.