Summary

Leading kids' smartwatch manufacturer Spacetalk Ltd has released its business update for the March 2021 quarter, reporting record group revenue of AU$3.9 million, up 110 per cent compared to the same period last year
It had its highest-ever quarter of device sales at AU$2.6 million, up 354 per cent
In Australia and New Zealand, devices sales grew to AU$2.4 million, up 768 per cent
At market close yesterday, company shares were up 9.38 per cent and trading at 17.5 cents per share
The strong result comes on the back of seminal announcements during the quarter – the Company's partnership with Telstra to sell its kids devices, and its B2B2C channel for its seniors device with aged/home care, NIDS providers and OTs
Spacetalk profiled in the Financial Times, Nikkei Asia, and Statista list of Asia-Pacific's Top 500 Fastest Growing Companies 2021, published earlier this month
A developer of ground-breaking technologies to keep families safe and connected, Spacetalk Ltd (ASX:SPA) updated the market on the Company's financial highlights and business achievements for Q3 FY21. During the period, Spacetalk put up a strong show with record revenue growth. The Company also achieved multiple key milestones.
Source: SPA Quarterly Report (22 April 2021)
Let us shed some light on Spacetalk's quarterly performance:
Another excellent quarter with robust revenue growth
Having witnessed strong sales during Christmas 2020 period, Spacetalk's revenue in Q3 FY21 benefitted from the substantial in-fill demand from its channel partners. The revenue surge was more than any other period in the Company's history.
Source: SPA Quarterly Report (22 April 2021)
Highlights of the quarter are:
Adventurer distribution was expanded from its successful exclusive launch with JB Hi-Fi to Telstra, Harvey Norman, Officeworks and Kogan.
Group revenue increased to AU$3.9 million, up by 110%, and was attributable to the prior year comparable period impacted by COVID-19.
Spacetalk Wearables division witnessed strong sales of AU$3.2 million (+241%), with device sales up 354% to AU$2.6 million and App revenue up 70% to AU$0.6 million.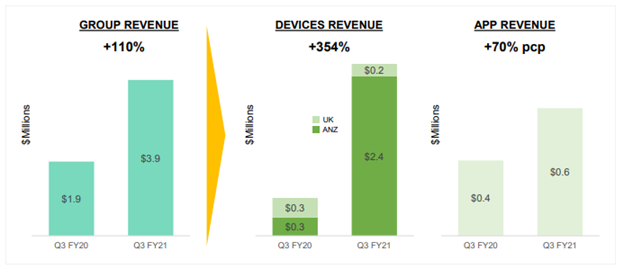 Source: SPA Quarterly Report (22 April 2021)
ANZ device sales
In Australia and New Zealand, devices sales increased to AU$2.4 million (+768%), growing Spacetalk devices' market share leadership amongst ANZ consumers.
New and existing retail and mobile network operator (MNO) partners contributed to AU$2.1 million of sales.
The e-commerce site of SPA has contributed AU$0.3 million.
Growth in device sales was achieved with customer acquisition costs down by 88% to AU$19.
Global market update
In the UK, revenue was down 36% to AU$0.2 million, reflecting a harsh COVID-19-induced lockdown in the country and the subsequent decline in consumer discretionary spending.
It was nevertheless a busy quarter for SPA in-country, with the Company's efforts focused on progressing discussions with a very substantial MNO and retailers that would provide a brick-and-mortar store front presence.
Entry in the US market remains on track with a CY21 launch.
Partnership with Australia's largest MNO, Telstra
In March 2021, Spacetalk and Australia's largest MNO Telstra entered a crucial partnership. After receiving Telstra's Full Technical Approval, marking the completion of exhaustive device testing and certification, Adventurer is now ranging across Telstra's retail stores in Australia and Telstra online channels as part of the telecom player's core wearables device range.
MUST READ: Spacetalk Adventurer a step closer to launch with crucial Telstra approval
Telstra's go-to-market strategy with Spacetalk includes:
Source: SPA Quarterly Report (22 April 2021)
Initially, the Telstra sold Adventurer devices will be available for outright purchase or on a hardware repayment option. This will significantly decrease the friction of the buying experience, i.e., where Telstra customers with a new/existing Telstra service (like ADSL, NBN, mobile plan) can add a Spacetalk device to their account. Besides, the customers need to pay for the Spacetalk devices on their bill for 12 or 24 months.
Telstra and SPA are working to build an attractive monthly SIM service plan. The plan would be exclusively for Spacetalk devices, streamlining the offering for Spacetalk customers and allowing Telstra to add new mobile service subscribers to its network.
Notably, Spacetalk Adventurer has secured the international Red Dot Award for Product Design. With more than 18K entries across three main design disciplines, the German Red Dot Design Award is one of the world's major global design competitions.
READ MORE: Spacetalk Ltd. (ASX:SPA) awarded prestigious Red Dot Design Award for outstanding design quality of its Adventurer connected smartwatch for kids
Launch of B2B2C distribution channel for LIFE
The quarter involved substantial work and achievement for the LIFE seniors device. The work involved adapting the device and evolving the business model for aged care and home care providers, NDIS providers and OTs (occupational therapists).
On 19 April 2021, Spacetalk announced the expansion of LIFE's distribution via a B2B2C model. The Company revealed that initially, it would be via a commercial collaboration with leading aged care and home care provider ACH Group employing over 1,700 staff and supporting more than 20,000 seniors in Australia.
READ MORE: Spacetalk (ASX:SPA) opens B2B2C distribution channel with aged care provider on upgraded LIFE smartphone watch for seniors
Coinciding with the B2B2C model launch with ACH Group, LIFE was augmented with new AI-Enhanced Fall Detection and Medical History Alert functionalities.
LIFE will continue to sell retail, with-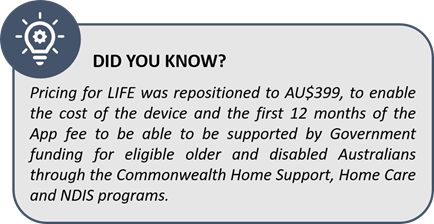 JB Hi-Fi starting a new marketing campaign to promote LIFE as a wearable safety device qualified for Government funding, and
Harvey Norman will begin selling LIFE at its 100+ brick-and-mortar stores in Australia and online starting next week.
Funding and Cash Position
During the quarter, SPA established a new AU$5 million inaugural loan facility with PURE Asset Management. The funds broaden the capital structure with a competitive and flexible new funding source and a supportive lender.
Moreover, the funds will be earmarked for inventory purchases to help the Company's resilient growth in sales, geographic expansion activities, brand investment, working capital and general corporate purposes.
On 31 March 2021, the Group had cash of AU$4.9 million, with AU$8.8 million positive working capital comprising AU$4.9 million cash, AU$2.6 million receivables, AU$1.1 million inventory and AU$0.2 million in other current assets and liabilities.
Mark Fortunatow, CEO Spacetalk commented-
Mr Fortunatow further extended his gratitude to all the customers, employees, partner distributors and retailers, suppliers, shareholders, and supporters of Spacetalk, who helped the Company achieve another excellent quarter.

To know more about Spacetalk Ltd., click here.