Summary

Consumer confidence fell down by 0.5% to 91.6 points in the week ending 12 July, recording third week consecutive decline, as per ANZ-Roy Morgan Survey.
Deteriorating conditions in Melbourne with coronavirus cases and imposition of the second round of lockdown have caused consumer sentiments and spending to plunge down.
Lately, CBA disclosed that the growth in card spending eased to be 7.2% higher compared to the prior year, for the week to 10 July.
A recent NAB business survey showed some improvement in business conditions and confidence in June but the situation remains extremely negative.
The condition of Australian economy now depends on how well the virus cases can be controlled in Victoria, as businesses and consumer sentiments, combined with consumer spending have started dwindling amid rising fears of the second wave. The surge in Victoria's infection rate and closure of its borders would certainly hurt the economic growth of Australia.
Consumer confidence dips due to coronavirus
On 14 July, ANZ-Roy Morgan Consumer Confidence survey report mentioned a 0.5% dip in the headline measure of confidence to 91.6 points for the week ending 12 July, lowest for more than 2 months since 10 May 2020.
Financial conditions gave mixed results, reflecting a gain in current finances of 1.2% and fall of 1.4% in future finances.
Drop in current economic conditions for the fourth successive week by 3.4% and a rise 1.8% in future economic conditions was noted.
Time to buy a household item remained weak, declining 1.9% while inflation expectations were stable at 3.2%.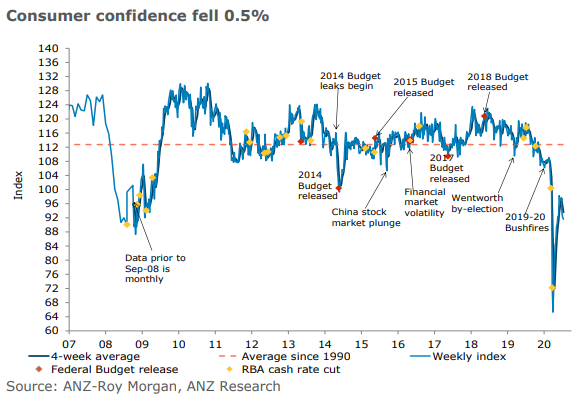 David Plank, ANZ Head of Australian Economics, stated that the confidence dropped more last week that was based on the plummets witnessed over the previous 2 weeks. Also, consumer confidence has decreased by 6% from its mid-June levels as it recovered from a record low in March. The rising virus cases and subsequently worsening conditions in Melbourne, as well as imposition of a second round of lockdown are the major drivers of fall in sentiment.
He also added that current economic conditions have declined by 15% over this period, while sentiment towards personal finance has remained nearly unchanged stressing the role of fiscal stimulus in protecting people from the direct fall-out of the economic contraction induced by the health response to COVID-19. The financial aid withdrawal or increase in the months ahead would be the most significant decision confronted by both government and the economy.
Business conditions and confidence rebounded in June but stays weak
The latest figures of the National Australia Bank Limited (ASX:NAB) Business Survey revealed that business conditions and confidence have showing signs of improvement in June, but the situation stays extremely negative. Business conditions rose 17 points in June to -7 index points, steady with rebound post tumbling below global financial crisis (GFC) lows in April.
Operating conditions improved in retail and mining sectors led to a rise in sentiment. Improvement was also driven by a lift in trading, which increased by 12 points to -7 index points, profitability went up by 11 points to -8 index points while employment climbed 20 points to -11 index points.
The services sector persisted to demonstrate feeblest results, but construction and manufacturing also stayed shaky, indicating to a second-round effect on industries not exactly affected by lockdowns.
Source: NAB monthly Business Survey
Alan Oster, NAB Chief Economist, stated that the conditions index was persistent to rebound in June posting another big increase. However, overall conditions still stay very fragile.
There was a significant improvement in activity as trading conditions, profitability and employment rose similar to the previous month. However, conditions and capacity utilisation still stay very weak and would take some time to recover. Though there was an improvement in forward orders and reported capex, however they stayed at low levels.
He also flagged employment, which soared 20 points to -11 index points, but the outlook for the same remains weak. Mr Oster stated that the progress in the employment index was still a low level, and the labour market has to go a long way before full recovery can be claimed. There has been a large and quick rebound in the business survey in the past 2 months, but there has not been a full recovery.
Consumer spending plunges
Lately, Commonwealth Bank of Australia (ASX:CBA) household card expenditure eased for the week ending 10 July and was 7.2% higher than 2019. Online spending slipped down the most for the week following a strong lift in the earlier week, and expenditure growth on both goods and services tumbled down.
Kristina Clifton, CBA's senior economist stated that a rise in coronavirus cases in Victoria and reimplementation of lockdown were negatively affecting the overall card spending. She also added that spending momentum has turned negative as a number of cases lifted sharply, and restrictions improved.
Victorian coronavirus outbreak dampened sentiment in the entire nation except in the Northern territory, which witnessed an uptick in card spending.
ALSO READ: Australia at risk of next wave of infections, Victoria announced $534m business support package
Overall spending growth in Victoria was negative dropping by 3%, reversing the rebound witnessed by the state in the earlier week. Spending on clothing, personal care, education and recreation was weaker in Victoria with many entertainment venues and beauty care services being shutdown with the imposition of Stage 3 restrictions. Tighter measures and lockdowns are affecting expenditure on transport as well. Spending on food has been increasing at similar pace across the nation, reflecting stockpiling behaviour that was witnessed at the start of the pandemic in late March.
Victoria recorded 177 fresh coronavirus cases on 13 July, with total cases standing at 3,967. There are rising concerns over a second wave of coronavirus in new South Wales and Queensland subsequent to 21 cases associated with Crossroads hotel at Casula.