Summary

Global economy has suffered a massive blow due to coronavirus pandemic and is facing its worst and deepest recession since World War 2.
Singapore's GDP dived by a record 41.2% in 3 months to June on QoQ basis, entering into a technical recession.
COVID-19 narrative across East Asia, Europe and the US has been largely stable in spite of differences in the intensity of measures; emerging economies are still struggling to contain the spread.
Economic activity is anticipated to shrink 7% in 2020 amongst advanced economies, while EMDEs are anticipated to plunge by 2.5%, as per World Bank June 2020, Global Economic Prospects report.
COVID-19 has ravaged people's lives all over the world, and has given a massive economic shock, pushing the global economy into severe recession since the 1980s. Governments implemented massive stimulus packages, and central banks went for huge interest rate cuts to loosen monetary policy for avoiding recession.
Further, the pandemic forced economies to resort to enormous lockdowns and shutdown of businesses, as well as labour markets, resulting in huge job losses and imposition of a high economic cost on countries. While several businesses moved to work from home, people to people businesses witnessed an unmatched downfall in activity.
In its June update, World Bank stated that the global economy would shrink by 5.2% in 2020 due to coronavirus pandemic and shutdown measure applied to contain it.
Coronavirus has taken a toll on most developed countries, as well as China. Apart from them, many emerging economies are battling to contain the virus spread and the economic downturn caused by it.
Recently, S&P Global has forecasted global GDP to shrink 3.8% this year, rising from earlier expectations of 2.4%, which majorly shows a deeper hit to emerging economies driven by India. A rebound is anticipated in 2021-2023, with average global growth above 4%, but with permanent lost output due to coronavirus jolt.
China is expected to be only major economy to avoid recession in 2020, but is likely to record only meagre growth. Moreover, infection rates have flattened in many countries, with an ease in social distancing measures. People are now stepping out more and spending has begun to rise, although levels are still below pre-coronavirus period. Retail sales have started picking up, and in the US, employment numbers are improving.
Singapore enters recession
Lately, Singapore's economy entered into a technical recession after plunging by 41.2% in Q2 compared to previous quarter, pulled down by feeble external demand, and implementation of partial lockdown measures called "circuit breaker" by Singapore government. Also, a technical recession denotes 2 consecutive quarters of QoQ (quarter on quarter) contraction.
As per Ministry of Trade and Industry advance estimates released on 14 July, Singapore's GDP plunged by 41.2% between April to June period, intensifying the 3.3% contraction in the previous 3 months.
This was worse than estimations by various economists of 37.4% drop for the quarter when Singapore was under lockdown to contain the virus. Coronavirus restrictions and business closures for several months have hammered Singapore's construction, retail, and tourism sectors. Services and construction sectors were hardest hit, while manufacturing was the only sector to experience growth.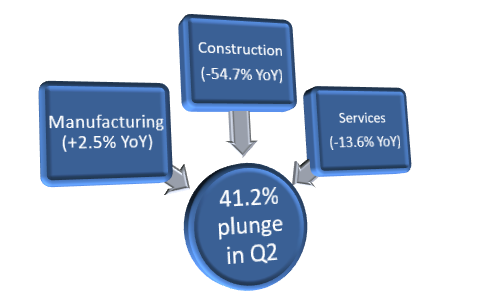 Singapore has reported 46,878 cases and 27 deaths, at the time of writing. The nation had quit the circuit breaker on 1 June and started reopening its economy in phases.
On 19 June, Singapore moved into phase 2 of reopening where it allowed retail shops and restaurants to open while monitoring social distancing. The Singapore government has declared 4 support packages worth S$100 billion or around 20% of GDP until now.
The government expects full-year GDP to drop between 4% and 7% in 2020. Analysts expect the economy to progress as more businesses reopen but cautioned about a rough recovery ahead due to uncertain global atmosphere.
Australia economy will take time to heal from recession.
Australia entered into its first recession in 2020, after almost 3 decades because of COVID-19 induced response measures. Australian economy shrank for the first time in 9 years, with GDP falling by 0.3% in the March quarter. The country posted its first negative growth in 2011 when cyclone Yasi and floods in Queensland hit the economy.
The major decline in output has been a result of fall in household income and consumption. Many businesses like hospitality, retail and entertainment had shut down shops, causing several people to lose their jobs as a consequence of pandemic induced lockdowns.
Australia currently has an unemployment rate of 7.1%, which would have been much higher if JobKeeper and JobSeeker programs were not in place. However, with the subsidies due to be withdrawn in September, and only targeted income support for the months ahead, Australians are yet to witness the worst.
The recent surge of coronavirus cases in Victoria and ensuing lockdown has spiked the fears of the second wave amongst Australians and will further delay the recovery process in the country.
Global economic scenario
While the virus originated in China, the focal point of infections moved to Europe in early March 2020, majorly in Italy, but the epicentre has now shifted to the US where cases rose up at a record pace. The US had recorded 3,616,747 coronavirus cases and 140,140 deaths, at the time of writing.
The US economy is recovering from coronavirus, and cases have fallen in the hardest hit states, but are still rising in the south and the west regions.
About 50 million Americans have filed for unemployment insurance over the 16-week period from mid-March to early July. While the unemployment rate stands at 11.1% for June, preliminary figures indicate that US GDP has dipped by 5% in Q1 of 2020 (largest quarterly dropping GDP since Q4 of 2008).
Federal Reserve has predicted the US GDP to shrink by 35% for Q2 2020
While in Europe, governments are going for the phased reopening of businesses after flat virus cases in the continent. Activity has been returning to normal levels at the fastest pace in Germany and at the slowest pace in Spain. The Eurozone economy shrunk by 3.8% (at annual rate) in Q1 of 2020 while about 30 million applied for state support for wages in Germany, France, the UK, Spain, and Italy.
Forecasts by OECD, IMF, and World Bank are as follows:
Targeted support must be gradually relaxed, and careful allocation of new capital must be made toward sectors that would be productive in new post-coronavirus structure as economies reopen and recovery begins.