Highlights

The healthcare sector has exploded as pharmaceutical and biotech companies are in a race to develop COVID-19 vaccines, treatments, booster shots and more.
For investing in any vaccine developing companies, it is advisable to consider other products in development and drug candidates in the pipeline of the company.
Intellectual property waiver might impact the incentives for vaccine developers to conducting research, development and innovation.
The healthcare industry is witnessing rapid growth after the COVID-19 pandemic, with many companies engaged in developing vaccines, treatments, diagnostics and other protective measures to combat the pandemic.
Furthermore, the sector has exploded as pharmaceutical and biotech companies are in a race to develop COVID-19 vaccines, treatments, booster shots and more. In addition, the companies are using emerging technologies that can speed up the development of vaccines to combat other infectious disease.
Investing in COVID-19 vaccine
Many investors think that it is too late to invest in COVID-19 vaccine developing stocks, but it's not. It seems like in some countries. The situation is better now because of the availability of vaccines. However, the outlook is not the same in all the countries across the world. Furthermore, the emergence of the new strains of coronavirus seems likely to fuel demand for vaccines for a long time to come.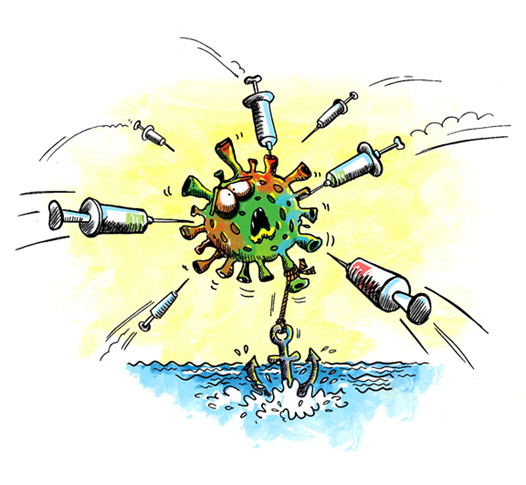 Copyright © 2021 Kalkine Media
Here are some key points to keep in mind if anyone is watching vaccine stocks-
Though there are many companies in the market with a vaccine candidate in their product pipeline, few will win regulatory approvals. So, researching the vaccine developers and their vaccine candidates is always advisable.
Even vaccine developers that have received the required regulatory approvals may encounter various challenges that can ultimately prevent them from achieving commercial success.
For investing in any vaccine developing company, one should also consider other products and drug candidates in the pipeline.
The stocks of healthcare companies that have other successful products in the market are less risky than those that do not have other products.
Companies developing COVID-19 vaccine
Also, the vaccine has demonstrated 74% efficacy in large US clinical trials, and the Company will seek US authorisation for its vaccine this year.
Novavax (NASDAQ: NVAX)- Novavax is developing recombinant nanoparticle protein-based COVID-19 vaccine NVX-CoV2373. On 23 September 2021, Novavax and Serum Institute of India (SII) filed regulatory submission to the WHO for Emergency Use Listing (EUL) of the vaccine.
Apart from companies engaged in developing COVID-19 vaccines, many players in the space are developing oral and nasal delivery of COVID-19 vaccines. However, many experts are highlighting that to remain protected, booster shots are to be administered to people who are fully vaccinated. Hence, the vaccine developers are actively researching to develop and introduce booster shots for their COVID-19 vaccine.
Intellectual property waiver: an obstacle for COVID-19 vaccine developers
The countries are supporting intellectual property waiver for COVID-19 vaccine to manufacture the vaccine at multiple locations. It will also allow the low-income countries to manufacture and offer COVID-19 vaccine at lower cost to contain the spread of coronavirus. However, it can impact the profits for vaccine developers because after patent waiving there would not be any incentives for conducting research, development and innovation.
RELATED ARTICLE: Should pharmaceutical companies waive IP rights on COVID vaccines
Bottom Line
No one knows when the COVID-19 pandemic will end. However, this sector has exploded with healthcare companies in a race to develop and market novel COVID-19 vaccines, and booster shots. With nations in full swing with their COVID-19 vaccination drive and pandemic turning endemic in many regions, the future of vaccine candidate providers is yet to be ascertained.
RELATED ARTICLE: How long will COVID-19 pandemic last? Will it continue into 2022?