Luka Doncic reminded the basketball world just how good he is, scoring 49 points as the Dallas Mavericks beat the Brooklyn Nets 125-120.
The Slovenian superstar hit four straight three-point shots in the final quarter, adding 10 rebounds and seven assists to his mammoth scoring effort, while Nets small forward Cam Thomas had 30 points in the losing side.
French rookie Victor Wembanyama secured the first win of his NBA career in style with 21 points and 12 rebounds as the San Antonio Spurs beat the Houston Rockets 126-122 in overtime.
The 19-year-old proved he is more than ready for the NBA as he hit the game-tying bucket with 20 seconds left in regulation time and added crucial baskets in overtime.
Victor Wembanyama after a dunk against the Houston Rockets' Jabari Smith Jr, left, and Alperen Sengun during overtime (Eric Gay/AP)
Guard Alex Caruso handed the Chicago Bulls a dramatic victory over the Toronto Raptors, 104-103, with a go-ahead three with just two seconds left of overtime.
Demar DeRozan starred for the Bulls with 18 of his 33 points in the fourth quarter while Scottie Barnes had a triple double for the Raptors with 22 points, 10 rebounds and 10 assists.
Steph Curry exploded for the Golden State Warriors with 41 points to get the win over the Sacramento Kings 122-114.
It was the battle of the guards throughout the game with Kings guard De'Aaron Fox trying to keep up with Curry, scoring 39 points.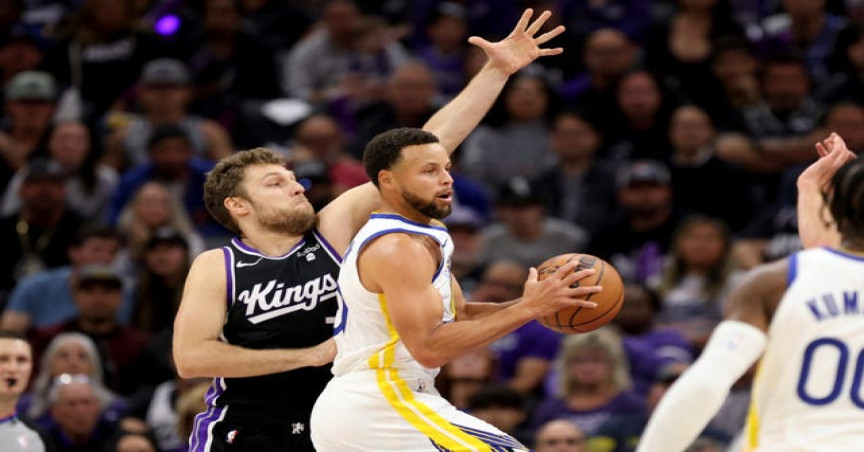 Golden State Warriors guard Steph Curry drives to the basket against Sacramento Kings forward Sasha Vezenkov (Jed Jacobsohn/AP)
The Boston Celtics took out last year's runners up the Miami Heat 119-111, taking revenge on the team who knocked them out in the Eastern Conference finals.
Derrick White starred for the Celtics with 28 points while Tyler Herro matched that for Miami.
Nikola Jokic continued his hot start to the season for the Denver Nuggets with 22 points and 12 rebounds as the NBA champions took down the Memphis Grizzlies 108-104.
The Utah Jazz upset the Los Angeles Clippers 120-118 with forward Lauri Markkanen scoring 35 points with 12 rebounds, while Paul George scored 36 points for the Clippers.
Orlando Magic beat the Portland Trail Blazers, the New York Knicks beat the Atlanta Hawks, Oklahoma City Thunder took down the Cleveland Cavaliers and the Detroit Pistons made easy work of the Charlotte Hornets.