The Detroit Lions bounced back from last week's heavy loss to the Baltimore Ravens to beat the Las Vegas Raiders 26-14.
Rookie Jahmyr Gibbs ran for 152 yards, grabbing the vital touchdown in the second half after the Raiders had got within two points.
The Lions, who now sit on top of the NFC North with a 6-2 record, had to make do with three field goals from Riley Patterson as they struggled to find the endzone.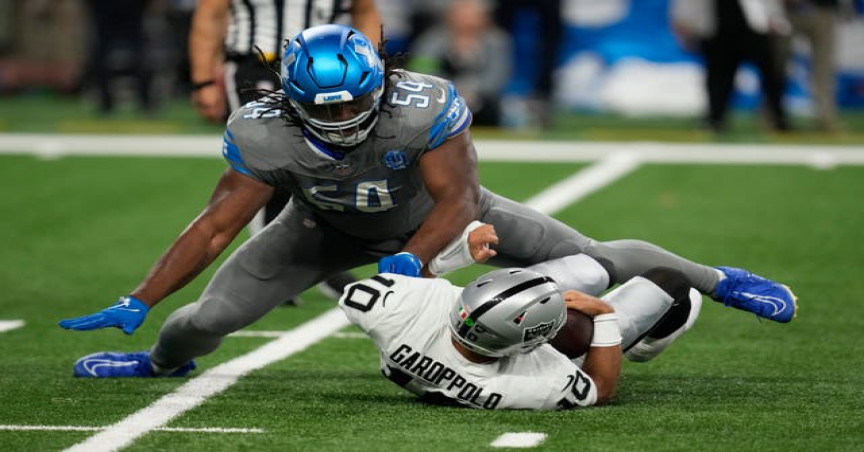 Detroit Lions defensive tackle Alim McNeill sacks Las Vegas Raiders quarterback Jimmy Garoppolo (Paul Sancya/AP)
Josh Jacobs did manage to score from three yards for the Raiders before Jared Goff, who threw for 272 yards, found Sam LaPorta from 18 yards for a 16-7 interval lead.
Goff was off target on his next drive, Marcus Peters returning an interception 75 yards after the interval to make it 16-14.
But Gibbs stretched the lead with his run from 27 yards, Riley Patterson adding a 52-yard field goal to increase the cushion.
The Raiders welcomed back starting quarterback Jimmy Garoppolo from a back injury, but he was sacked six times and managed just 126 yards.