Summary

Even though telehealth is not a new invention, it has gained prominence during the pandemic and has proven to be a critical aspect of health services accessibility. Telehealth is essential for individuals who do not have easy access to health services.
Telehealth illustrates the usage of telecommunication means to provide healthcare services, such as prescribing medicines, diagnosing a sick person, writing a prescription, and others.
COVID-19 has shown a genuine need for telehealth and similar systems. Telehealth is protecting all individuals, their families, and hospital staff from close contact and a potentially risky coronavirus infection.
Australia is one of the fortunate countries where its residents can regularly attend doctors' appointments if they are COVID-19 symptom-free. Many nations have restricted visitations to the hospitals, as well as having regular check-ups in case their health takes a hit.
Doctors, nurses, and other hospital staff need to get consistent tests, at least once a month, so it is essential to keep them safe at all times. When it comes to unprecedented events such as COVID-19 pandemic, technology could help immensely to get rid of similar problems.
This is where telehealth comes to the rescue. Telehealth is not only useful when individuals are feeling too sick or wanting to minimise the risk of infecting the hospital staff, but also for busy people who cannot leave work for various reasons.
GOOD READ: Government urged to continue MBS-funded telehealth services: ResMed, Resapp to reap the benefits
What is telehealth?
Telehealth refers to the usage of technology for accessing healthcare services. People can use smart gadgets, such as personal computers, tablets, or mobile phones, for checking most of their healthcare data.
Telehealth can be used remotely from home or by doctors in their clinics to make healthcare service as accessible as possible.
It is important to stress that telehealth is not the same as telemedicine. While telemedicine describes exchanging online healthcare services across geography locations, cultural and social boundaries, and time, telehealth mainly defines providing the utmost professional care over long or short distances.
Telehealth is so much more than talking to the GP using online video platforms – its creators imagined providing full medical service that could be booked online without any difficulty.
The most common way of using telehealth is via Skype conferences. Doctors can allow video calls if their smart gadgets are equipped with a web camera or can speak via an audio call.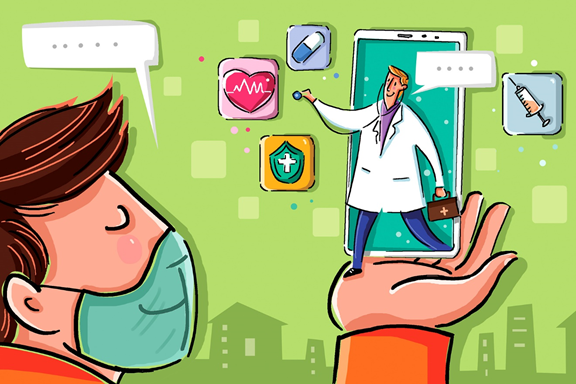 Image Source: © Kalkine Group 2020
INTERESTING READ: Telehealth Gains Prominence: HMD, RAP, RSH
Can doctors provide any health documents using telehealth?
In case people feel unwell or cannot physically visit a doctor due to specific reasons, doctors can send numerous health documents to patients. People can receive pharmaceutical prescriptions, specialist referrals, several medical certificates (e.g. a sick note for employers that need to keep employee's absence on record), or pathology appointments.
For successful telehealth access, patients need to register to the service as a one-time application. Once the registration is completed, individuals do not need to fill in any more joining documents but can enjoy all advantages that telehealth offers.
What are telehealth's main goals?
Telehealth has several important goals that should benefit healthcare as a system and patients as consumers:
Healthcare should not be available only to people that live in industrial areas. Those that reside in rural areas should also have easy access to prescriptions or sick notes. That said, telehealth was partly made for individuals in a similar position.
There are many disabled or older people that are not as mobile as an average citizen. For them, telehealth plays a critical role as they cannot hop in the car and go to the nearest GP or specialist.
Sometimes, it is not easy to get an appointment with a specialist. As telehealth appointments are usually not time-consuming, doctors might find more time with online consultations.
Some people prefer being more independent when it comes to their wellbeing. With telehealth, most information is available online for members to quickly download or check when required.
Telehealth enhances the overall healthcare system by connecting more staff members online. Not only can doctors speak to their patients, but also their colleagues in other departments or clinics.
ALSO READ: Evolution and Expansion of Telehealth in Australia – 1ST, RAP, ICR
Who can benefit the most from telehealth services?
People who live in remote regional areas might not have easy healthcare access. Sometimes, small towns cannot afford to have an ambulance, so rural Australians need to travel long distances to get the medical attention they require.
Telehealth is ideal for individuals in a similar situation, as the system allows a 24/7 service for all patients in need. No matter the distance registered doctors on call will answer all enquires.
Does Medicare cover telehealth?
In most cases, especially for people that live in cities or suburbia, telehealth will most likely not be covered by Medicare.
However, Aboriginals and individuals living in eligible areas in Australia can get a Medicare rebate for the telehealth appointment under the Medicare Benefits Schedule (MBS) Online.
There are specific companies that deal with telehealth bookings, such as Doctors on Demand that offers 24/7 assistance. The firm had already held almost 50,000 video calls regarding healthcare, for A$60 during business hours and A$90 after hours for a 15-minute GP session.
GOOD READ: Public vs Private Health Insurance in Australia
How has COVID-19 impacted telehealth?
The coronavirus pandemic has shown the need for services like telehealth. People that are at high risk of infection or those that do not want to get sick could easily access telehealth appointments and get their prescriptions without direct contact.
Since March of this year, more people had become eligible for MBS telehealth, meaning the consultation would be bulk billed. At first, free-of-charge telehealth appointments were obtainable for individuals at risk of COVID-19, but the Australian government had altered the requirement.
As the latest condition, all GPs could bulk bill the telehealth meeting if they have an existing relationship with a person calling. That means that the patient would need to see the particular GP at least once in the last 12 months.
INTERESTING READ: