Highlights

Binge is Australia's new streaming service
OTT services have seen huge influx of viewers thanks to lockdowns
Top ten shows on Binge that are a must watch
Looking for some binge-worthy shows for the weekend? Your search ends here.
Here we have compiled for you a list featuring some of the best shows streaming on Binge, a video streaming subscription service available in Australia, owned by Streamotion.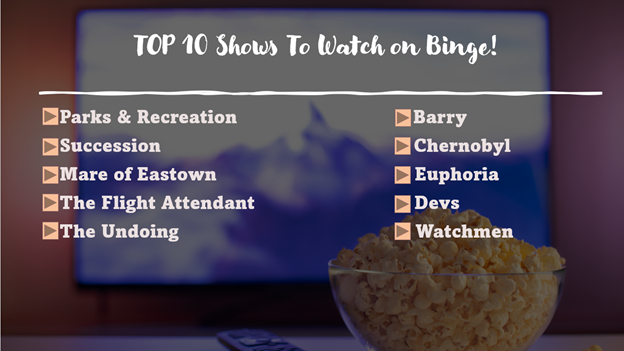 Image: Copyright © 2021 Kalkine Media
The list below will take you on a joyride as you take your pick from among the most compelling viewing series/movies for your next TV marathon. It's time to treat yourself with a fun-loaded weekend. Here you go:
Parks and Recreation
Parks and Recreation is an award-winning comedy series starring Amy Poehler as Leslie Knope, a politically ambitious small-town government employee. The story develops as she moves ahead in life from her eternal hopes of building a park in a pit to bigger dreams amid the crazy incidents at the Indiana Parks and Recreation Department.
Mare Of Eastown
Featuring Kate Winslet as detective Mare Sheehan, Mare of Eastown is a must-watch. The story depicts how her life crumbles while investigating a murder case in Pennsylvania. During the investigation, the dark side of the close community along with long-held secrets are uncovered.
Succession
With Sarah Snook, Jeremy Strong and Kieran Culkin as their leads, the three seasons of the series can be your next pick for the coming weekend. The story is about an uber-wealthy Roy family, which is popular for powering the world's biggest media and entertainment firm. The twist in the story begins with the battle for power after the father decides to step down from the company.
Chernobyl
Based on a real-life event, Chernobyl brings forth the horrifying scenes of the massive explosion that took place in April 1986 at the Chernobyl Nuclear Power Plant in Ukraine, Soviet Union. One of the worst man-made catastrophes in history, the Chernobyl explosion spewed out radioactive material across Belarus, Russia and Ukraine and as far as Scandinavia and western Europe. To control the explosion, plant workers and firefighters had risked their lives and made sacrifices to save Europe from the disaster.
Euphoria
Created by American actor and filmmaker Samuel Levinson, Euphoria is a teen drama series. The story revolves around the unstable world of a group of high-school students who explore the bond of love and friendships amid the anxiety-ridden life of drugs, sex, trauma and social media. If you want to go on a nostalgia trip and revisit the high-school feel again, you can watch this 2020 Emmy award-winning show on Binge.
Devs
A speculative fiction, Devs revolves around the life of a young software engineer named Lily Chan, unfolding the mystery around her boyfriend's apparent suicide. The character Lily, who works for a tech company Amaya in Silicon Valley, suspects foul play into her boyfriend's death and starts looking for details. Will she get to the depth of the mystery and find suspicious links to her boyfriend's death? And is 'Devs' – Amaya's secret development division – involved in the macabre incident? To find out, tune into Binge and watch the thriller series.
The Flight Attendant
It is a dark comedy thriller series taking you into the world of travel and high-end airlines.
The plot is about the life of a flight attendant Cassandra Bowden who takes a drastic turn after a one-night stand proves to be deadly for her. She wakes up next to a dead body in a Bangkok hotel with no clue of what went wrong the last night. The story that follows, revolves around her escape to the US, and running away from the cops.
Watchmen
Based on the popular graphic novel 'Watchmen', the series has been winning great viewership since its release in October 2019. The star cast includes Regina King, Yahya Abdul-Mateen II, Tom Mison, Sara Vickers and Jeremy Irons. Directed by Andrij Parekh, David Semel, Frederick E.O. Toye, Stephen Williams, Nicole Kassell and Steph Green, 'Watchmen' is a must watch if you are looking for a blend of action, crime, drama, sci-fi and a superhero in one single series.
The Undoing
A drama masterpiece by writer David E. Kelley, 'The Undoing' is a trending series about a successful therapist, her husband, and their young son. The story takes an interesting turn after the unfolding of a cheating scandal and a violent death. It is an exciting thriller with murder mystery and a lot many engaging revelations about things related to the therapist's family.
Barry
Barry is an award-winning black humour featuring Bill Hader as Barry, who is a hitman facing career crisis. Bill Hader is also the director and producer of the hit comedy. Barry kills people to earn his bread and butter, however, he gets inclined towards acting while he searches for his new target. Driven by the new-developed interest in acting, he decides to leave behind his sinful acts. But the strings well-rooted in the past don't allow him a smooth transformation.