Summary

Ambulance coverage is not covered by most Australian states and territories, which means that dialling 000 could be pricey if treatment or transport is necessary.
Many private insurers offer tailor-made ambulance coverage packages in case Australians want to feel extra protected.
Most Australian states and territories have different arrangements for ambulance cover with some even offering discounts or free-of-charge emergency treatment.
Having adequate healthcare insurance is now more critical than ever.
Australian hybrid system may perhaps confuse many, most likely the immigrant population. The crucial thing to understand is that the Australian government decided to privatise half of the health system while simultaneously providing necessary health examinations free of charge to everyone with Medicare.
However, basic Medicare does not offer full coverage for ambulance services. Ambulance cover also varies within states, so it is possible to get overwhelmed with information. As an ER might be of significance during critical moments, it is essential to see the differences between various state policies for ambulance cover.
DO READ: Lens on ASX-listed health insurance stocks Medibank (ASX:MPL) and NIB Holdings (ASX:NHF)
What is an ambulance cover?
Ambulance cover describes all treatments provided by the paramedics and transportation in an emergency vehicle. According to research, nearly 5 million calls were directed to the ambulance services in Australia during 2018-2019.
Image Source: © Kalkine Group 2020
People usually do not think about additional costs that could occur when dialling 000. Those expenses should not cause anxiety in individuals, especially not in the moment of a traumatising event. This is where ambulance cover comes in handy, primarily because the annual fee is quite affordable compared to a massive bill one could receive.
With an added private insurance policy, one could cover extra costs for ambulance services. Physiotherapy, speech therapy, visual expenses (glasses and contact lenses), home nursing, dental costs, chiropractic services, and orthodontist are also not fully included under basic Medicare insurance.
However, some states and territories may compensate for a full or a partial cost of the service, depending on where one lives. Some states do not even charge specific individuals or allow discounted prices for ambulance cover.
INTERESTING READ: 6 Important checklist items to consider while buying health insurance plans
What is the biggest advantage of having an ambulance cover?
The main benefit of having ambulance services covered is less stress and avoidingsignificant medical expenses.
In some Australian states, a single ambulance ride could cost more than A$1,000, depending on the distance one needs to travel. At the same time, the most affordable ambulance cover fees could cost as little as A$50. It is also not that helpful to be more fearful during the most critical ride of one's life.
DO READ: How does age impact the cost of health insurance plans?
Does private insurance cover ambulance services?
The answer to that question largely depends on an individual's healthcare policy. Some insurers provide full ambulance cover, including transport and all medical treatments done on the spot and in the hospital.
On the other hand, some insurance providers may exclude specific costs from the policy.Thus, it is always advised to double-check the insurance contract and know its details in case of emergency.
For example, some insurance companies may cover transportation to the closest hospital and no other. If the individual requires transfer to another institution, that cost will be out-of-pocket, meaning they need to pay it themselves.
DID YOU READ: Private Insurers and APRA differ in their Industry Outlook: A look at the Industry challenges
How do Australian states manage ambulance cover costs?
It is important to emphasise that Australian residents may not be eligible for covered ambulance costs when travelling interstate. Other terms and conditions for each state and territory are explained in the following table: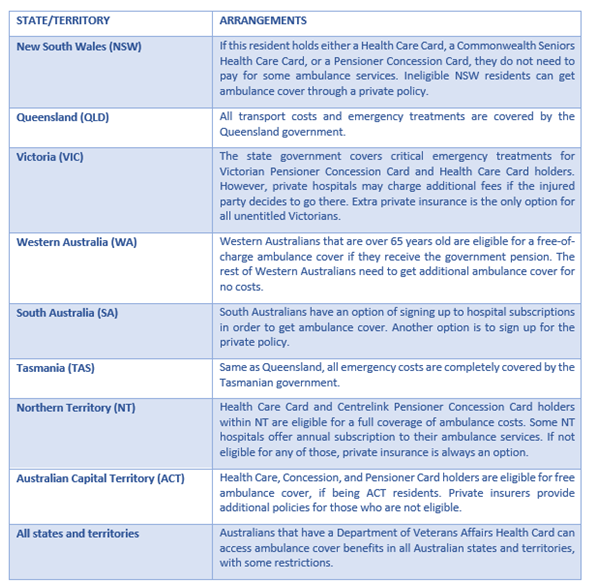 Source: PrivateHealth.gov.au
What are the transportation costs without ambulance coverage?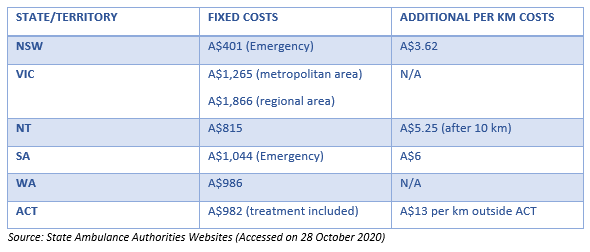 Is ambulance cover for me?
Due to the hybrid system, the Australian government is "forcing" Australian residents to get private insurance by the age of 30, so what are a few extra dollars compared to a few hundred?
After presenting costs for transportation only, it might be a good idea to get extra ambulance coverage if one is not eligible for discounts or free cover. There is no harm in being additionally covered because costs are otherwise very high.
However, everyone should make sure they do their due diligence before signing up for any hospital subscriptions or additional ambulance coverage.