Summary

Australia's private health insurance industry is extensive with nearly 40 players insurers.
Three types of private health insurance are available in the country - hospital policy, general treatment, and ambulance policy.
The citizens have the option to purchase the policies for these covers independently or as a combined package.
Before purchasing an insurance plan, one must compare two or more plans. There are several online available tools to do the same.
In Australia, private health insurance is community rated. If a person does not receive health insurance from their employer, parents, or Medicare, there is an option to buy a private insurance plan.
The community-rated health insurance implies that everyone in Australia is eligible to buy the same product, at the same price and is assured the right for renewal of the policy. However, this is not the case for lifetime health cover and age-based discounts. A health insurer cannot refuse to sell you any policy you want to buy.
The private health insurance industry is a large one with 38 insurers in the country. However, the market is primarily dominated by only a handful of players.
GOOD READ: What are the top healthcare insurance providers in Australia?
Private health insurance
Generally, there are three types of private health insurance-
Hospital Policies- to cover you when you go to the hospital.
General Treatment Policies- these are also known as extras or ancillary. This cover is for ancillary treatment (for example- dental, physiotherapy).
Ambulance Policies- Provide cover for ambulance transport.
How does private health insurance work?
Individuals have the option to purchase the policies for the hospital, general treatment and ambulance cover independently. Many insurers also provide combined plans aimed at people looking for more than one policy. There are constraints on what and when an individual can claim through the policy.
An individual can always compare policies to select the most appropriate plan for him/her based on the specific requirements. There are multiple online tools that can help individuals compare policies, making it easy for them to pick the most suitable one.
Things to consider before buying a private health insurance
As the cost of healthcare continues to increase, buying a health insurance policy is imperative. However, with so many options available, it may be confusing to find an insurance plan that would work right for you.
Here are a few things which you should consider before buying a health insurance plan-
What is covered by the health insurance plan?
In Australia, Medicare covers most Australian people for health care. However, Medicare does not provide coverage for everything, and a person can opt for private health insurance to have a wider variety of health care options and more comprehensive cover.
What government incentives and surcharges affect insurance?
The government of Australia offers a Private Health Insurance Rebate to encourage people to take out as well as maintain private health insurance. Most of the individuals are eligible for a rebate on the insurance costs.
Moreover, the Private Health Insurance Rebate and age-based discount affect how much you pay for private health insurance. The Medicare Levy Surcharge affects people earning above a particular threshold who do not take private hospital insurance.
The age-based rebate helps to lower the cost of starting a private health insurance plan for individuals between 18 to 29.
DO READ: What are the different types of health insurance available in Australia?
For overseas visitors and students
If you are on a temporary visa in Australia, you should think about getting some form of visitor's health coverage for the duration of your stay. While visiting Australia and having a temporary visa, a person should consider opting for Overseas Visitors Health Cover (OVHC).
In some cases, there would be a requirement to take health insurance as part of visa conditions; for instance, students are required to get Overseas Student Health Cover (OSHC).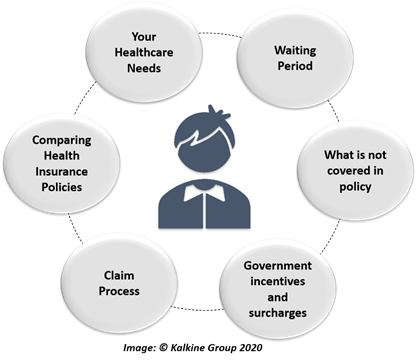 Waiting periods
There is a waiting period which a person is required to serve on purchasing health insurance coverage for the first time before claiming benefits. During the period, no benefits are provided for specific treatments, or one might receive lower benefits for some duration.
What is not covered on the insurance plan you plan to buy?
It would help you to take a note of what is and is not covered by your policy, as all policies are not comprehensive. Based on the policy levels, it is possible that you may not be fully protected against all treatment-associated costs and might have to pay some out-of-pocket expenses.
What are your healthcare needs?
A person should review his/her insurance from time to time to make sure that it still meets all the requirements. If the premium has become a concern for you, there are several approaches through which you can manage your policy at lower costs. An individual can also think about moving from his/current policy to a different policy or insurer. If a person is confused while choosing which plan to buy, approaching a financial planner could be a good alternative.
READ MORE: How do Financial Planners Pick the Best Health Insurance for You?
Comparing one or more health insurance policies
Every health insurance plan that is available across Australia, is summarised in the form of a Private Health Information Statement (PHIS) for making it simpler to compare two or more policies. For private hospital cover, there are standard clinical categories that specify things covered by and not covered by each insurance plan.
Bottomline
Taking out a health insurance plan does not mean you have to stick with it forever. It will help if you keep reviewing, reassessing, and comparing it with others. There are several online available tools to compare healthcare plans. Also, it is advisable to maintain payments of premium up to date.
ALSO READ: 6 Important checklist items to consider while buying health insurance plans