Highlights

Emergency medical service provides treatment in case of crisis when the patient is outside of a hospital setting.
Paramedics are trained health professionals who provide all types of out-of-hospital care and treatment.
The ambulance services industry of Australia is anticipated to witness an increase in revenue with the rising aged population in the country.
An emergency medical service (EMS) provides acute care to patients with illnesses and injuries before the patient reaches a hospital or gets a physician. In addition, EMS has a significant role in disaster operations, involving responding to the pandemics. Throughout the COVID-19 progress, reports from many places suggested a substantial increase in the calls asking for an emergency.
RELATED READ: COVID-19 in Australia: No letup in sight despite continuous lockdowns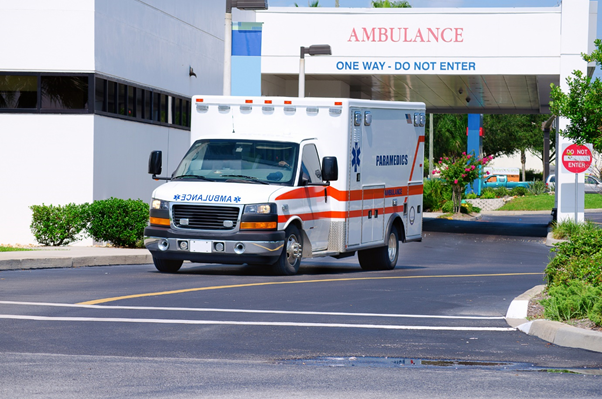 Source: © Mike2focus | Megapixl.com
Australia possesses one of the most sophisticated emergency services across the world, with some of the most well-qualified paramedics. Moreover, access to 24-7 emergency services is available in the country.
Furthermore, the Ambulance Services industry of Australia is anticipated to witness an increase in revenue over the upcoming five years. The rising population and the aged population will drive the demand for the industry in the near future. In addition, the experts suggest that the industry is expected to expand to cope with the increasing practice of early patient discharge in the public hospital system, which often requires non-emergency transport as well as occasional re-admission.
Components of EMS
The organisation and structure of emergency medical services comprise multiple agencies and people working together to form a comprehensive system that responds rapidly to unpredictable events and offers an advanced level of care.
EMS is a complex system, and each element of the system plays a crucial role in offering organised and seamless medical care during the time of emergency. Moreover, the emergency medical service is combined with other services and systems that are meant to maintain and improve the health and safety of the community.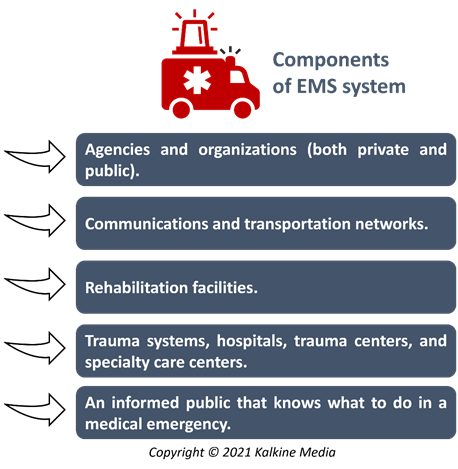 Type of emergency medical services
The most common and recognised type of emergency medical service is an ambulance organisation. Besides, EMS can incorporate services developed to move patients who are critically ill from one facility to another or respond to some medical emergencies in the presence of paramedics. In addition, the fire department also plays an influential role in the EMS.
Let us now have a look at different EMS organisations-
Government emergency medical services
The government EMS are the ambulance services that operate separately from the region's police and fire emergency service and are financed by the local or national government. In some nations, these tend to be found only in big cities, whereas in countries almost all emergency ambulances are part of the National Health Service (NHS), an example is the UK.
Police or Fire Linked Service
In some countries, many ambulances are operated by the local fire or police service, particularly in rural areas, where maintaining a separate service is not cost-effective. This signifies that an injury or illness is being responded to by a vehicle other than an ambulance, such as a fire truck.
COVID-19 RELATED: How many jabs of vaccine are needed to protect you from COVID-19?
Private Ambulance Service
Private ambulance service providers are commercial companies that provide emergency services and have paid employees on a contract with the local or national government. Numerous private companies provide only the patient transport type of ambulance care that does not include medical care. However, in some places, they also provide emergency care.
Hospital-Based Emergency Service
Some hospitals offer their ambulance service to offer emergency care to the area where ambulance care is chargeable or unreliable. The use of hospital-based emergency services would be dependent on using the services of the providing hospital.
Source: © Studiosnowden | Megapixl.com
Who are paramedics?
A paramedic is a trained medical professional who responds to and treats all types of emergency medical conditions and cares to people outside of a hospital setting. Paramedics can investigate, evaluate as well as offer treatment to patients in the case of emergencies.
Paramedics can offer life-saving treatment to the patients until they reach the hospital or get to a doctor. Typically, the paramedics provide emergency medical service and work as emergency care practitioners on first response emergency vehicles or ambulances.
Types of paramedics?
Becoming a Paramedics involve several certifications and in many countries it's a protected title violation of which may lead to criminal prosecution.
Certain certifications include:
BLS (Basic Life Support) – A special pre-hospital medical care by trained professionals. Many life saving techniques form a part of this service: protection and maintenance of patient airway such as oral or nasal airway; the actual flow of air respiration normally assisted by emergency oxygen; and beating of the heart and blood flow.
ALS (Advance Life Support) – It provides advanced procedures and skills on a patient such as Cardiac Monitoring, Transcutaneous pacing etc.
Bottom Line
Overall, the demographic factors have a significant impact on health as well as on the demand for and delivery of services related to health care. Furthermore, the increasing population along with aging residents in Australia will drive the demand for emergency health services.
ALSO READ: All you need to know about organ donation