Summary

Sustainability trends are fuelled by all-around global commitments, with companies, consumers and investors becoming increasingly conscious of their actions' environmental impacts.
While the COVID-19 pandemic has surged the demand for eco-friendly products, the high price of such products remains a significant deterrent.
EVs and green energy provide a radical solution to ongoing challenges in achieving ecological sustainability.
There is no denying that the world is undergoing massive transformation on the lines of sustainability, which no longer seems to be just the buzzword. The unprecedented disruptions of COVID-19 and visible impacts of human activities have proven to be a wake-up call for many, with 2021 already ongoing on an action-packed note.
What's more, apart from the sudden uptick in global commitments, consumers and investors have gradually become more conscious of both ecological and social needs over the past few years, with the change having a domino effect on the approach of many companies.
ALSO READ: Why Australia needs to bite the bullet & fight against climate change
The world undoubtedly needs methodological transformation built on innovative ideas and feasible approach of how companies and consumption pattern changes. So let us look at the latest trends promising these significant changes.
ALSO READ: Has the earth's energy imbalance doubled in the last 14 years?
Green Consumption going through the roof
Growing consumer awareness regarding the impact of their purchase decisions not only on their pockets but also on the world has brought a monumental shift in how they select and buy. Ecological and social improvement has become one of the top priorities for many, aligning their personal moral compass with their purchase choices.
Source: Copyright © 2021 Kalkine Media
The pandemic has surged the demand for green products, with a recent survey undertaken by Uniliver indicating that 33% of the people chose to buy ecologically conscious brands. However, one critical challenge is the high price tag associated with eco-friendly products that often proves a deterrent in the purchase behaviour.
While many think tanks question the sufficiency of such measures taken to suit the consumers' ideology, it is evident that consumer shift is making sustainability a business priority for many organisations.
Ethical Investing greasing the wheels of sustainability
The sole motive of investing for generations has been geared towards making large sums. However, investors in the current world are becoming more conscious of the impact that their every penny makes on the world.
Ethical investing is all about ensuring that the investors' values are in line with their investment portfolio. It has given rise to several sub-trends such as green investing, ESG (Environmental, Social and Governance) investing, and socially responsible investing, with all having a single focus to make a positive impact on the world.
Source: Copyright © 2021 Kalkine Media
ALSO READ: Which sectors are more sensitive to ESG?
In a study, UBS Asset Management has indicated that around three-fourth of respondents agree that ESG-integrated investments gave a better financial performance. While the ESG investing momentum is strong in Australia, the lack of framework and clear grounds for investing is a significant challenge.
Electric Mobility ensuring GHG reduction
The transportation sector, one of the most significant contributors of greenhouse gases, is grabbing headlines, but for all the positive reasons. The sector is on the verge of a radical transformation as electric vehicles gain massive popularity.
Sales of battery-electric and plug-in hybrid electric vehicles have zoomed significantly, with almost all major automotive companies taking the plunge in the EV market. Moreover, EV adoption is further bolstered by incentive schemes and ongoing efforts to improve charging infrastructure, which has remained one of the critical concerns of potential buyers.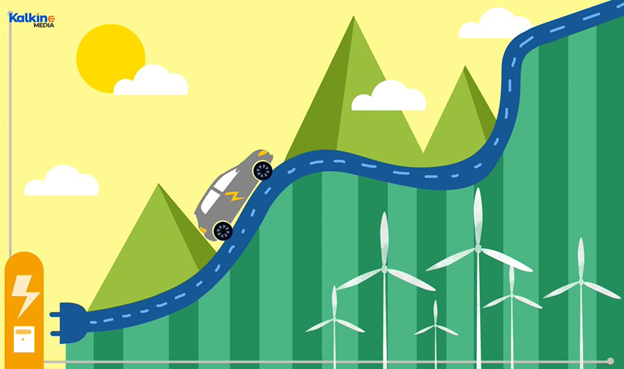 Source: Copyright © 2021 Kalkine Media
However, despite several benefits, Australia is not at par with many other countries when it comes to transition to EVs. The lack of charging infrastructure, insufficient incentives, range anxiety and consumer misinformation have impacted the significant transition.
ALSO READ: What is a net zero economy? Is it possible?
EV penetration is expected to grow further as governments across the world tighten their emission norms, incorporating well-defined policies in a bid to replace ecologically exhausting conventional vehicles.
Clean Energy powering long-term sustainability
When it comes to ecological and social impacts, the power generation sector does not lie in the good books of environmental enthusiasts. Moreover, with threats regarding the depletion of fossil fuels constantly looming over, long-term sustainability goes out of the window.
ALSO READ: Is renewable electricity more economical than coal-based power?
The same concerns surrounding power generation has, however, fuelled the popularity of renewable energy sources that do not pollute the environment. New CEO of the Australian Energy Market Operator (AEMO), Daniel Westerman, recently laid down the goal that Australia's grid should be capable of 100% renewable energy penetration by 2025. Meanwhile, there has been an uptick in installing solar rooftop panels in Australia, as indicated by Australia's national science agency, CSIRO.
Furthermore, Western Australia saw the initiation of the world's most significant project of green hydrogen, Western Green Energy Hub (WGEH). The project aims to create around 3.5 million tons of green hydrogen utilising 50GW of solar and wind energy.
ALSO READ: Can Australia's hydrogen accord with Germany lower worrying emissions?