Definition
Cashback
What is cashback?
Cashback is a card benefit that allows consumers to get a proportion of their money back in cash. Several debit card accounts now give cashback benefits, which were previously only available with credit cards.
Cashback is a type of incentive or reward used to enable customers to use credit cards more frequently. A credit card's cashback function allows the cardholder to receive a proportion of eligible spending (usually 0.25 % to 5%). The Flipkart Axis Bank Credit Card, for example, offers a 3% cashback on all items purchased with the card.
When Discover Financial Services, a part of Morgan Stanley, debuted a credit card without any annual fees, a cashback benefit on some transactions, and a higher-than-normal credit limit in 1986, the concept of cashback acquired broad acceptance.
Summary

Cashback is a credit card perk that reimburses a small sum of money spent on transactions to the cardholder's account.
Cashback benefits are actual cash applied to a credit card bill, received as a cheque, or deposited into a bank account.
Consumers can get money back on purchases via cashback websites and apps.
Frequently Asked Questions (FAQs)
What is the process for getting cashback?
Cashback programmes began in the 1990s as an extension of credit card issuers' general rewards schemes.
However, in the 21st century, they have become popular; practically every major card issuer now gives the feature on at least one of its products. It's a way to entice current consumers to use the card early and often and potential consumers to switch from a competitor's card or register for one.
Unlike traditional rewards points, which can only be used to purchase products or services, such as travel, or gift cards from the card issuer, cashback incentives are similar to receiving cash. They are frequently included on cardholders' monthly credit card statements and can be used to make purchases on the account; in other words, they can be used to pay down the credit card bill. Consumers have the option of having their cashback reward deposited straight into their connected checking account or receiving it in the mail.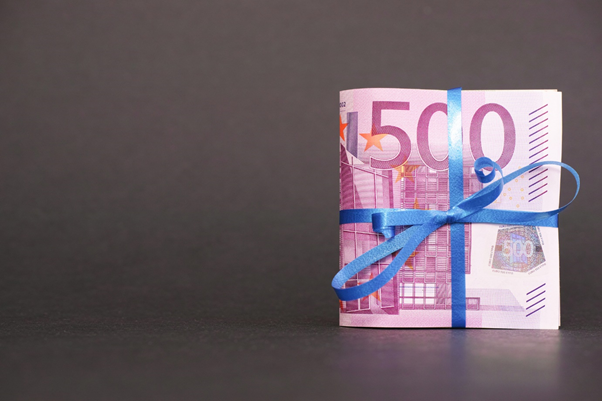 Source: © Tomnex | Megapixl.com
What are the most popular types of cashback?
Cashback rate on the annual expenditure
Cashback rates are scaled based on annual spending. So, for example, if your yearly expenditure is less than AU$10,000, you'll get a 1% cash back rate, and if your yearly spend is more than AU$10,000, you'll get a 2% cashback rate.
Flat rate cashback
You'll get a flat rate cashback regardless of how much you spend. The Amazon Pay ICICI Credit Card, for example, offers a 1.5% reward on all purchases made with the card.
Cashback at varying rates
The rate of this type of payback varies based on where the money is spent. For example, a 3% payback on food and a 1% cashback on the medicine may be offered, and so on.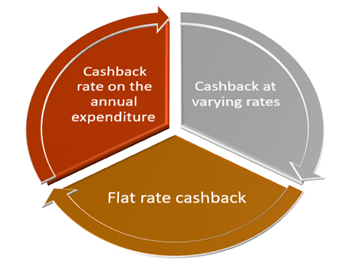 Source: Copyright © 2021 Kalkine Media
How does the cashback redemption process work?
Several cashback credit cards require a minimal redemption threshold. Therefore, it's crucial to read the fine print on the back of the credit card. Cashback is usually redeemed in one of the following ways, based on credit card terms:
Direct bank deposit
You might be able to deposit money into your checking or savings account directly. In addition, you could cash out your points balance at any moment with Discover. However, other banks may need the amount of a specific reward before cashing out. Make sure you understand your redemption thresholds by reading your terms and conditions.
Gift card
Some credit card companies offer e-certificates or gift cards for popular merchants to redeem your cashback.
Statement credit
The reward is applied to the current credit card balance.
Charitable donations
Some credit card providers you to contribute a portion or all of your cashback to a charity of your choice.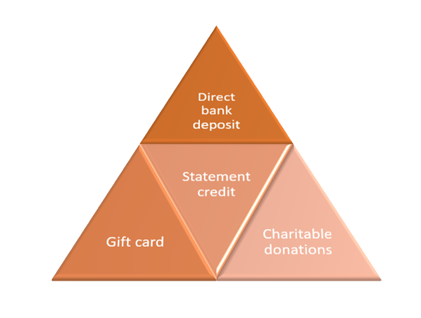 Source: Copyright © 2021 Kalkine Media
What to look for in a cashback credit card?
It's good practice to do some research on the credit cards offered to you before weighing your alternatives. Let's have a look at the advantages so you can compare cards:
Recognise the offers
To begin, double-check that you understand the terms of each offer, such as whether the cashback applies to all purchases, specific categories, or a combination of both. For example, certain cards may give you a more significant percentage back on groceries than on gas. Also, make sure you know how much you can earn and when and where you may cash in your bonuses.
See beyond the cashback
While the cashback benefits are appealing, don't neglect to weigh the card's non-cash back features against your spending habits. If you want to get the most out of a cashback rewards card, paying off your debt each month to avoid paying interest is a great idea.
Source: © Polegaevmark | Megapixl.com
Identify your spending patterns
It's critical to examine your buying habits and match the cashback categories to your spending preferences.
Assess the fees
Always check the fine print when it comes to credit card fees. Late fees, yearly fees, balance transfer fees, and other costs charged by credit cards can vary greatly, so be sure you know how all these fees can affect you.
What are the risks of earning cashback?
Cashback should not be viewed as an inducement to overspend. Instead, think of cashback as a bonus for the money you would have spent otherwise.
The last thing you must do is charge more than you can manage to make more money. If you overspend and go into debt, you risk accruing interest costs, which could negate the benefits of rewards programmes.
What are some of the most well-known cashback credit cards?
Prospective customers can apply for cashback rewards credit cards from Mastercard, Discover American Express, and Visa. Each has its own set of rules, but card issuers oversee cashback rates, bonuses, and promotions.
Some of the most prominent card issuers on the market include Citi, Wells Fargo, Chase, and Capital One.